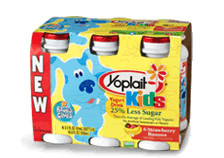 Thanks to Sandra, one of my readers, for pointing out this coupon! There is a new $1.50/1 coupon for Yoplait Kids. These go on sale for $2 every once in awhile so you would be able to get a pack for possibly .50! Click here to print it out. Thanks Sandra!
Don't forget, you can usually print coupons from "Bricks" twice, just click the back button after the first one has printed!!!
This is language that went with the coupon: *This coupon offer for $1.50 off Yoplait Kids yogurt is not valid in some states, including Idaho, Louisiana, Nevada, New Jersey, North Dakota and Tennessee. Does anyone know WHY this coupon wouldn't be valid in those states? Just curious! Is it because it is a kid's product? If anyone knows, let me know because I'm curious!!!