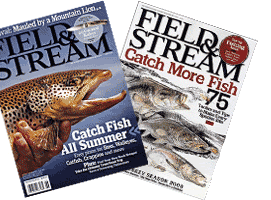 No Purchase Necessary!
No Credit Card Required!
Get a complimentary subscription to Field & Stream magazine (12 issues) and get in-depth articles on hunting, fishing and conservation news.
Follow this link http://www.valuemags.com/freeoffer/fieldstream-rdc.asp to find out how to get your complimentary 12 issue Field & Stream magazine subscription.
Please respond by August 19, 2008.
Quantities are limited.