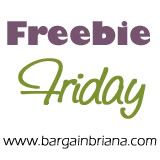 If you are a blogger and want to share your Freebie deals or Giveaways use Mr. Linky and give us the link to your best Freebies! (Not required but highly encouraged to  link back here encouraging people to participate in my Freebie Friday!)
Check out the Previous Freebie Fridays – some of these Free Samples & Coupons are still available!
Receive 50 FREE Photo Cards from See Here until 12/31/2009 and 140 FREE holiday labels from Vistaprint.
Take these coupons with you shopping at Old Navy in the next few weeks.
Bored? Read about these 7 FREE places to distract your family from the winter blues!
Sign up to receive a FREE Aveeno Tote from Body + Soul magazine. You can also get freebies sent to you in the mail from Vocalpoint. You can also get coupons from Pampers by signing up for the Pampers Village.
You can get McAfee 2010 Anti-virus FREE after Rebate here.
Are you on the A-list from Aerie? If not, sign up here to receive a coupon for FREE chocolate on Thursdays in December.
Print out coupons for FREE from RedPlum.com, SmartSource.com, and Coupons.com.
Be sure to enter my current giveaways and check back throughout the week for many more!
Any other freebies I missed???