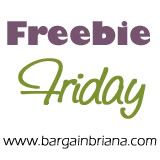 If you are a blogger and want to share your Freebie deals or Giveaways use Mr. Linky and give us the link to your best Freebies! (Not required but highly encouraged to  link back here encouraging people to participate in my Freebie Friday!)
Check out the Previous Freebie Fridays – some of these Free Samples & Coupons are still available!
→FREE SAMPLES
→COUPONS
→FREE MAGAZINES
→BLOGGY GIVEAWAYS
→OTHER
FREE Coldplay Album (Click on Butterfly to get to download page.)
FREE Sheet Music downloads via PDF through 8/4/2009. Thanks Mommy Wish List!
$20 FREE GRETSCH 125TH ANNIVERSARY POSTER
100 FREE Prints from PhotoCubbie
20 FREE prints at Kodak Gallery
Any other freebies I missed???
Don't miss out on any deals: Subscribe to my free newsletter via email or RSS.