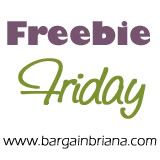 If you are a blogger and want to share your Freebie deals or Giveaways use Mr. Linky and give us the link to your best Freebies! (Not required but highly encouraged to link back here encouraging people to participate in my Freebie Friday!)
Check out the Previous Freebie Fridays – some of these Free Samples & Coupons are still available!
Read about my fun trip to All You Magazine in New York City from Andrea, Mercedes, and Erin!
→FREE SAMPLES
→COUPONS
→FREE MAGAZINES
→OTHER
Any other freebies I missed???
Don't miss out on any deals: Subscribe to my free newsletter via email or RSS.