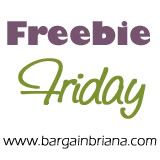 If you are a blogger and want to share your Freebie deals or Giveaways use Mr. Linky and give us the link to your best Freebies! (All I ask is that you link back here encouraging people to participate in my Freebie Friday!)
If you want, you can pick up my Freebie Friday code on my sidebar! Feel free to post that wherever you want!
Free Samples:
Bounce Awakenings Free Sample
Lots of Free Samples & Coupons at Start Sampling, you will have to register but it is well worth it!
Pantene Pro V Sample
Airborne Seasonale
Free Sample of Recycled Post it Notes HERE.
Free Sample of Eucerin Extensive Foot Creme
Free Febreze Pet Pack
Free Organic Horizons Single Serve Milk Sample
Kotex Sampler Pack from Walgreens
Coupons/Online Printables:
$4 off $50 Purchase at K-mart – Check out their Labor Day Sales!
Save $1.00 on Happy to Fly – Natural Anti-Anxiety Formula for Travelers Click Here
$10 coupon for (1) Purina BREEZE Litter System. Go HERE to get this coupon. You have to fill out a small form to get the coupon.
$1.50 off Glade Fabric & Odor Eliminator
$1 off Tide to Go
$1 off Tide Total Care
Seventh Generation Diaper Coupons – Go to Kids Meal Crowd for the info!
Don't forget about all the coupons in my sidebar. You can print coupons without leaving this site!
Mail in Rebates:
Just for Men – Touch of Gray – Free up to $8. Click HERE to get the form.
Magazine Subscriptions:
Free 1 year subscription to Sound & Vision Magazine. (Featuring DVD, CD & videogame reviews, plus the hottest new entertainment gadgets.)

Click HERE. First you have to enter to win a "It Rocks" Rocker Eye Makeup, then it will take you to the screen for your free $15 gift. You can choose a Magazine subscription to Sound & Vision or a music download. (I didn't recognize the name of the Artist – (THE LAST OF THE WINNEBAGOS by Connie Willis.) For the music download you have to give a credit card. You don't have to give this information for the free magazine subscription.
Free 1 year Subscription to TV Guide after you take a short survey. Click HERE.
Other:
Ideal Bite – Sign Up for Fun, Free Eco-Living Tips Click Here
Sign up for Big Crumbs and start earning money on your online purchases. Go to this blog entry to read all about it!
Get a Free Tote from Instyle with the Purchase of 2 Aveeno Products. "Deal"ectible Mommies has the scoop!
Don't forget to pick up your free breakfast at IKEA this weekend…Get a Free Breakfast at IKEA this weekend. Thanks to Erin at Coupon Cravings.
Free School Supplies at Staples. Go to this blog entry to read about it!
Printable online coupon from K-mart. $5 off $50 K-Mart Purchase (Valid: August 28 to September 1st)
Sign up at Mom Select to receive exclusive offers from different companies!
Sign up at She Speaks to receive more exclusive offers! Click HERE to read about it.
Be sure to sign up for this free photo sharing site! It is free for you and I will earn $5 for each person who signs up for an account!

Blog Giveaways:
If you would like your giveaway posted on my site (I love to help out my fellow bloggers!!!), please link on Mr. Linky below OR email me at bargainbriana@gmail.com and I will list it on Wednesday or Friday! Please include the permalink to the giveaway, the item & value, and the end day of the giveaway!
Little Window Shoppe – Cheeky and Swank – Ends September 5th – She is giving away a bib or an adult T-shirt. Cute Stuff!
$25 Amazon Gift Certificate from Bargain Briana! Ends 8/1