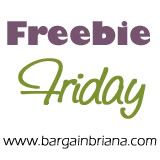 If you are a blogger and want to share your Freebie deals or Giveaways use Mr. Linky and give us the link to your best Freebies! (All I ask is that you link back here encouraging people to participate in my Freebie Friday!)
If you want, you can pick up my Freebie Friday code on my sidebar! Feel free to post that wherever you want!
Free Samples:
Coupons/Online Printables:
Mail in Rebates:
Magazine Subscriptions:
Other:
Be sure to sign up for this free photo sharing site! It is free for you and I will earn $5 for each person who signs up for an account!

Blog Giveaways:
If you would like your giveaway posted on my site (I love to help out my fellow bloggers!!!), please link on Mr. Linky below OR email me at bargainbriana@gmail.com and I will list it on Wednesday or Friday! Please include the permalink to the giveaway, the item & value, and the end day of the giveaway!