If you are looking on a deal for back to school Nike shoes, check out these clearance deals over at Nike.com. Plus, you can stack this 20% off coupon code (XTRAIN) to save even further! Plus Nike Store Members (Free) get FREE shipping on orders $100+.
This makes for a great deal on LeBron X Men's Basketball Shoe which are retailed for $180 and rarely go on sale. These seem to be the "in thing" for boys right now! The coupon code and sale bring the price down to just $119.98 + Sales Tax Shipped! I'm not sure if you will find a better deal on these shoes. I see sizes 8-11 still available.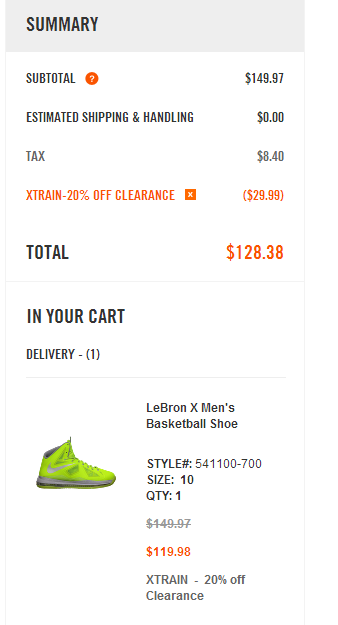 There is also many other styles to choose from! I just wanted to point out the deal on the Lebron's because I know they are popular! My youngest wanted a pair of Lebron's that he called his "dream shoes" and I let him get them only if he would pay the difference on the price I would normally spend on his tennis shoes. He agreed and was thrilled! :)
Use coupon code XTRAIN to save the additional 20% and be sure to sign up for your FREE Nike Store Member account to get free shipping!
Want to save loads of money shopping online? Check out the latest online shopping deals.