Thursday, November 28th to Wednesday, December 3rd

Check your ad for specific prices for your store as prices could vary slightly from city to city.
Click HERE for Marsh 101
Deals look kind of lean this week! There is a $5/$30 purchase good until 12-24 HERE. (Limit 1 per HOUSEHOLD.)
::CONDIMENTS & SALAD DRESSINGS

Wishone 16 oz. Salad Dressings (Must buy 2 for coupon)
– $1.25//2 (10-5 RP)
Final Price: $1.36/each
::SOUP & CANNED GOODS
Campbell's Pasta with Meat (Spaghettios) $1.25 (Must buy 2 for coupon)
– .40/2 (9-21 S) doubles to .80
Final Price: 85¢/each
Del Monte Fruit 15 oz to 15.5 oz can $1.25 (Must buy 4 for coupon)
– $1/4 (11-16 RP)
Final Price: $1/each
::MEATS
USDA Select T-Bone Steaks $5.98/lb
Bob Evan's Slow Roasted Dinners 18 oz. $5.99
– $1/1 (10-19 S)
Final Price: $4.99
::FROZEN FOODS
Klondike Ice Cream Bars 2/$6
– $1/2 (10-26 RP)
Final Price: $2/each
::DAIRY & REFRIGERATED PRODUCTS
Kraft Singles 12 oz. $2
– .50/1 (11-2 S) doubles to $1
Final Price: $1
Dean's Gallon Milk $2.99 Assorted Varieties
::BEVERAGES
2 Liter Coke Products 5/$5 (Must buy 5 to get this price!)
Don't miss out on any deals: Subscribe to my free newsletter via email or RSS.
Kid's Club Treat of the Week – 1ct. Cocoa Mix Packet

If you haven't linked your Marsh Fresh Idea Card to a School – Do it Now HERE…your school will get a % of your spending! Those pennies add up!!
Senior Rewards – Qualifying Seniors will get 5% off their order EVERY Thursday! See Store for details.
***Spend $150 on baby wipes, diapers, baby food, or formula and automatically receive a $10 Baby Club Reward (See your receipt for updates and additional information)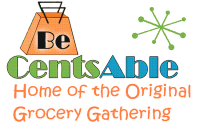 The Grocery Gathering is hosted at BeCentsAble each Monday and Thursday. Head over to check out all the deals being covered and to join in the discussion!