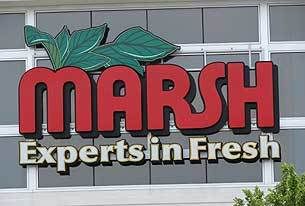 If you are signed up for Marsh Mail you should have received an email alerting you to do this 5% off your total order this week. If not, sign up HERE so you won't miss out again! (It seems like they do this offer every 3 months or so.) They also have had other EXCLUSIVE deals like free ice, etc.
Go to my blog entry HERE for this week's Marsh deals. Some GREAT things going on! Free Green Giant Steamers, Cheap Cheap Cheap Pillsbury Grands and MORE!
Fine Print:
This offer is limited to your FIRST transaction between Thursday, Sept. 18th and Wednesday, Sept. 24th, 2008 at any Marsh or O'Malia's location. Savings value excludes purchases of beer, wine, liquor, tobacco products, lottery tickets and in-store services. Offer limited to customers that have their Marsh Fresh Idea Card or O'Malia's CouponPlus Card properly entered in the Marsh Mail system (details below).

Offer good for Marsh Mail subscribers that had their Marsh Fresh Idea Card number or their O'Malia's CouponPlus Card number correctly entered in the Marsh Mail system by 8:00a.m. Wednesday, Sept. 17th, 2008. If the number below is your correct card number, your savings will automatically deduct from your first transaction from 9/18/08 through 9/24/08.