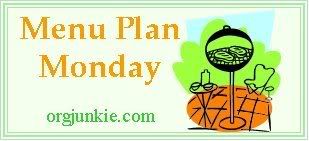 This is my second week for Meal Plan Monday, Though, last week, I only cooked ONE of the recipes I posted. Oh well, it was a weird/short week last week so it made it difficult to stay organized.
I am participating in the Organizing Junkie's Meal Plan Monday! To join in on Meal Plan Monday click HERE. I just love Laura's site! So many great organizing tips – visit her Meal Plan Monday link and then browse around!
Monday: Crockpot Pot Roast & Veggies (I'm going to cheat and use McCormick's packet for the seasoning!) I need something easy since I'm still trying to get the house caught up from our mini-vacay. I'm also using the meat we bought from our a neighbor who is a farmer! This is the BEST beef, I've had. Good, locally grown (less than 1 mile from my house), hormone free, BEEF! We split the cow with 3 other families and it ended up working out to around $2.00/lb for all the meat. Our portion should last us a good 6 months, I'm estimating! & Green Beans with Cherry Toms.Tried by Chick in the Kitchen.
Here it is! I even threw in a package of frozen potatoes/onions/celery/carrot mix. The Green Beans w/Cherry Toms were very yummy! Had just a hint of sweetness to them. Something I will want to cook again with a bigger batch!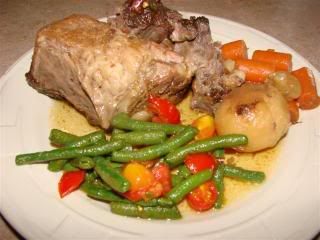 Tuesday (new recipe to me!): Fiesta Chicken Bake (I premade this on Tuesday night to make cooking easier on Tuesday.) The recipe didn't specify which type of cheese, I used Sharp Cheddar. I would have preferred to use a Mexican Blend but I'm sure it will still taste fine. I also added some banana peppers to a little area of this and I will add some fresh tomatoes tomorrow night before I put it in the oven!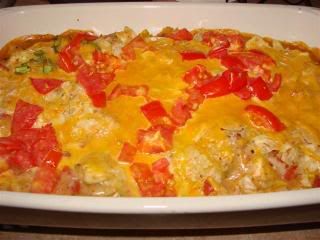 See my tiny little corner of peppers! They were super yummy! Good recipe, I probably could have put more chips in it but I ran out. (Trying to just use what I've got in the cabinet.) For those worried about the spiciness, I didn't find it overly spicy.
I'm also baking THIS (gotta love Pioneer Woman with her step by steps with pictures!!!) right now – except with blueberries, cuz that is what I have!
Wednesday: Grilled Brown Sugar Pork Chops from All Recipes Oops! We had a sick kiddo on Wednesday so we had to do a "Free for All" night! So Pork chops will be moved to Thursday night!
Thursday: Ribeye Sandwiches & Grilled Zucchini and any other garden veggies we have! We were at my parents house swimming and ended up eating hamburgers on their grill! :)
Friday: Chicken Alfredo Pizza recipe by Homespun Heart. I'm going to add toms, onion, spinach to part of this! Looks easy to make and sounds yummy! I ended up only having fresh tomatoes to use so I made this. It was NOT a hit. I liked it (not as good as Pizza Shack's chicken alfredo pizza) but my husband wasn't too thrilled. I also made some more of the Green Beans with Cherry Toms from Monday & cut up zucchini and steamed it in a steam bag.
Saturday: Grilled Tilapia & Artichoke Pasta from Perry's Plate We ate leftovers for lunch and ordered a Pizza for dinner.
Sunday: I made the porkchops I had thawed out for Wednesday. I dumped some Lawry's Hawaiian marinade on the chops and toped with a sliced pineapple. These were yummy and very simple!!!