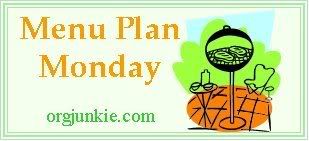 This is my third week for Meal Plan Monday. Last week (see pictures & reviews HERE), I stuck a little more to my meal plan. Life happens, though, and sometimes things don't go according to the schedule. My whole goal is to start cooking more at home and using the items I have on hand. Since we only dined out once last week (Saturday night), I feel like this is a success!
I am participating in the Organizing Junkie's Meal Plan Monday! To join in on Meal Plan Monday click HERE. I just love Laura's site! So many great organizing tips – visit her Meal Plan Monday link and then browse around!
Monday: Baked Spaghetti I added some fresh tomatoes and used some meatballs I had in the freezer. Of course, the kiddos just wanted to eat the meatballs. I need to buy/make those more often, they were fighting over them…there was plenty for everyone!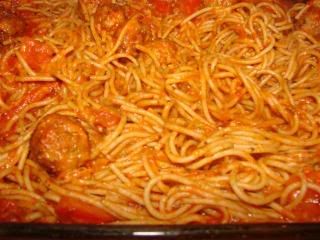 Tuesday: Ribeye Sandwiches (ribeyes thinly sliced cooked on the grill) & Broiled Parmesan Tomatoes
I marinated the ribeyes in a baja mix marinade I had. It was just enough spice! I used garden fresh tomatoes for the side dish instead of canned. Of course, my pictures are of real dishes and not photoshopped like the magazines! I liked them! I need to work on my food presentation.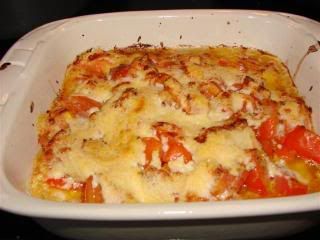 Wednesday: CrockPot Indonesian Chicken I can't remember what we ate this night. I couldn't find sesame oil in town so I didn't want to make this recipe. I know I cooked something but I can't remember what it was??? Maybe pork chops?
Thursday: Cowboy Packets We ended up with a Pizza because I had a meeting and I had to pick the kids up at my parents…so I didn't get in time to cook anything!

Friday: Crockpot Swiss Steak (using a Seasoning Packet I have) Cookout at Friend's House
Saturday: I made my own recipe with ground beef, brown rice, garlic powder, chili powder, corn, diced toms, and tom sauce. It was not a hit. A couple kids liked it but thought it looked disgusting. HE ate it but didn't want it ever again. We also had corn on the cob. Of course, they loved that. I won't disgust anyone with pictures or a recipe to torture your family with. (I thought it tasted good.)
Sunday: Crockpot Swiss Steak (using a Seasoning Packet I have), I made Freakin Awesome Zucchini, and served wonderful boxed potatoes (hey, I was tired from all the canning & freezing!!!)