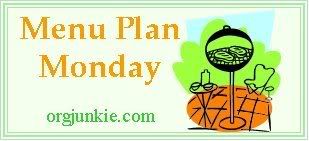 Last week didn't go so good. We hardly stuck to my plan at all and the crockpot Bacon/Chicken was not a hit with HIM but the kids said they liked it. I froze the rest of it so when I'm back to eating "regular" food, I will eat it. As I had a little bite and thought it was yummy! He just doesn't like chicken in the crockpot. He thinks he tastes weird. So I won't be doing that anymore, I guess.
So this week, I'm sticking with some family favorites. Things I KNOW work.
Monday: Yummy! Chicken Casserole
Tuesday: Beef Stroganoff – (A Recipe on my list last week that I didn't get too!)
Wednesday: Spaghetti & Garlic Toast (Probably a jar meal!
Thursday: Leftovers?
Friday: Pizza
Saturday: No cooking.
Sunday: Probably something on the grill.