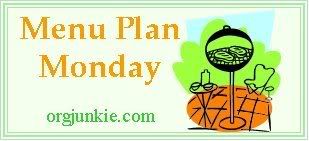 For the first time, I am participating in the Organizing Junkie's Meal Plan Monday! To join in on Meal Plan Monday click HERE. I just love Laura's site! So many great organizing tips – visit her Meal Plan Monday link and then browse around! She also has a great link to a Southwestern Salad that looks YUMMY!!!
(Last week I had my own cooking at home record…7 days in a row.) This week, I want to be a little more organized and plan ahead using items I already have in my stockpile.
I do have a short cooking week this week and I will only be cooking Monday – Wednesday.
Monday: Deep Dish Taco Squares from Perry's Plate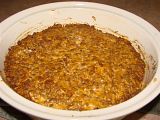 This is a hit with the kids! I realized after I made it, we didn't have any tomatoes so I omitted those and of course, no onions are allowed in our recipes. BOOOOOOOO (I LOVE onions)! I also thought 1/4 c. of water didn't seem right so I increased that to 1/2 c. and the Bisquick layer seemed good! You could always substitute some type of Pillsbury rolls for the bottom layer! One more note, if you have a large family, you might want to double this recipe!

The kids got their veggies by drinking V8 Fusion, which has a whole serving of veggies in one serving! Shhhh…don't tell them that, they won't drink it if they know its healthy for them. So, as soon as I served this taco meal, Fi Fi (2), says no don't like it because big brother "E" (4) said I don't like it. I convinced him to try it and of course, he liked it so of course, she would eat it – she even requested seconds! Here are some pictures and reviews….notice the "video" bomber in the first one…if you haven't heard of photo bombing, google it. It is basically when a perfectly good picture is ruined by one person in the background – whether intentional or unintentional. See the List of the day for funny photobombing pictures! There are some pretty funny stuff…the first video has our own VIDEO bomber! Long story SHORT – there will be no leftovers with this dish!!!
Tuesday: Stuffed Zucchini Boats from Taste of Home (We have zucchini coming out of our ears!) Everyone ate something different. I decided to so some shopping tonight so I didn't have time to cook. We did eat at home and out of our stockpile, though! :)
Wednesday: Boneless Chicken Tenders (Something with ground beef – since I have a 1 lb already cooked) baked w/Rice a Roni Cheesy Rice OR leftovers (depending on how much we have leftover from Monday & Tuesday).