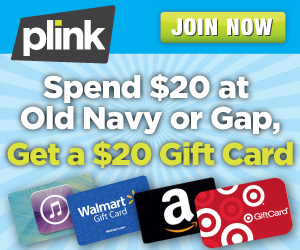 If you haven't signed up for Plink yet, here's a great offer to score a $20 gift card for a store of your choice such as Amazon.com, Target, Walmart, Kohl's, Starbucks and more! This is for new users to Plink.
Here's How: 
Sign up for Plink today. Make a minimum $20 in-store purchase at Old or Gap by Sunday, April 14, 2013 with your linked cedit or debit card.
You will receive 2,000 Plink Points.
Redeem your Plink points for the $20 gift card of your choice!
Bonus 2,000 Plink Points will be awarded on Thursday, 4/18 Old Navy & Gap purchases that occur on 4/15 or later will not count toward this promotion, but will continue to earn PlinkPoints at their regular rate.
Find more retail shopping deals online and in-stores.