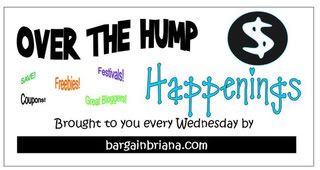 Free Samples:
Free Sample of Neutrogena Pink Grapefruit Acne Wash Thanks to "Deal"icious Mom
Coupons:
Blog Giveaways:
$25 CVS Gift from the Savin' Maven or from Newlyweds
Other:
If you bank at Bank of America, you can visit museums for free.
Free Chicken Strips at Chik-Fil-A. "Cent"sible Sawyer gives all the details!
Did you see the coupons for the Free Southern Style Chicken Sandwiches at McDonald's in this week's Parade & USA Sunday Insert? There was coupons for a regular sandwich and breakfast sandwich.  Thanks to Aunt Jane for reminding me of that! We already used one of ours…they are so yummy!
Festivals I participated in this week:
I participated in the Festival of Frugality #139 hosted by Our Four Pence Worth. My article on how to survive the check out lane with your coupons was chosen.
Here are some of the highlights:
Silicon Valley Blogger gives a great numbers analysis on how those little things can add up over a 10 year period. Very eye opening! I'm sure some of us won't stop with some of our money leakers completely but we might think twice the next time we stop to buy a coke or coffee!
My Two Dollars get 25 tips for reusing household items. Some creative ideas!
Almost Frugal gives 5 ideas for frugal toys for your kids using food.
Erin gives 5 tips on saving while shopping online at Coupon Cravings.
I participated in the Make it from Scratch Festival, Life on both sides of the Pond hosted it this week. My zucchini recipe was featured. Check out all the great recipes posted!
Some of my favorites:
Green Style Mom tells how to make your own yummy tortilla chips! They look so yummy! Then head over to Seabird Chronicles and make some peach salsa, which sounds unique!
Biotrue Challenge Sweepstakes shows how to make puppets!
Have Extra plastic sacks and know how to crochet? My Recycled Bags tells you how to make a crocheted water bottle bag out of plastic sacks.
Check out EVLiving for a ton of Southwestern recipe links! My zucchini recipe was featured.
Highlights:
Simple Hawaiian Teriyaki Chicken Recipe
These Huevos Rancheros look yummy!
My favorite – M&M cookies!
I also participated in the August 14th Edition of Kids & Money hosted by Money-Hacks. My blog entry on using Upromise was featured.
Highlights:
Mommy ABCs gives some hints on how to survive the PTO.
Digerati Life asks what do Potty Training mishaps have to do with money?