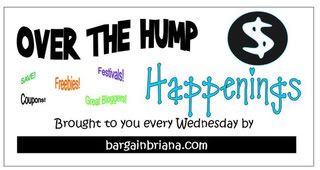 Blog Giveaways:
Altered Art Junkies is giving away a Free Altered Frida Journal. Ends 9/30
Thrifty Momma is giving away a 2 year subscription to All You Magazine. Go HERE for details on how to enter. Ends 10/5
Wow, Wow, Wubzy DVD Giveaway from Mommies with Cents. Ends 9/26
Toilet Tattoo Giveaway. What a cool idea! From Centsible Mommy. Ends 10/1
My personal Reviews is giving away some coupons! Go HERE to enter. Ends 9/26 Plus, she is having a Savoring the Moment Giveaway which includes a coupon for the new Pillsbury Savorings. Ends 9/26 also.
Around the Blogosphere:
My friend, Lisa, has a new blog called Freebie Freaks. (Hopefully I won't ever be featured! ha ha!!) The funny and unusual requests found on freecycle, craigslist, and similar sites! Enjoy!
Jess @ And She Lived tells you how to make money with Moms Auto Ads.