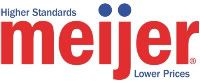 Meijer 2 Day Super Sale Deals 8/9 – 8/9

See Meijer 101 on how to maximize your savings at Meijer
See School Supplies Deals HERE
Weekly Deals HERE
Check your ad if you are not sure when your weekly sale runs.
SEE MY SIDEBAR on the right hand side to print coupons straight from my blog! There are some great coupons in there!
15% off General Merchandise when you use your Meijer Card Friday 8/8 & Saturday 8/9
Coupon in the Super 2 Day Deals Ad for 40% off any remaining Baseball Items
Cheerios Cereal 3/$5
– .75/1 (Printable from my coupon bar in sidebar at right!) = .91/box or
-.55/1 (coupon sidebar) = $1.11/box
-$1/2 (8-3 S) = $1.16/box
Suave Hair Care 79¢
-$1/2 (7-13 RP)  = .29/bottle
Plumrose Bacon $2
Meijer MVP Sports Drinks .50
Margaritaville Dips, Salsa, or Chips B1G1 Free
40% off Athletic Shoes (excludes Sketchers) – Combine with: Save $10 on athletic shoes (Excludes Skechers) when you buy $10 worth of Coca Cola Products (2 LIters are 10/$10 this week) (Limit 1 offer per transaction and good until 9-13-2008 or 9-17-2008 (Chicago & Indianapolis areas)
10 PK Bic Cristal Stick Pens .79
– $1/2 (BIC coupon in my sidebar)
– $1/2 (8-3 SS Insert)
Buy 1 BackPack get 10% off all school supplies that fit in it…excludes backpacks & TI calculators. Combine with: **Save on Backpacks – Buy $10 of Kelloggs (Use Kellogg Coupon Inserts – Price is calculated BEFORE coupons) and get $10 off a backpack – backpacks are 40% off…then use the Kellogg's Rebate form in the Kellogg's Insert $10 MIR when you buy 10 items (have to be purchased AFTER 8-5, though!)! Sounds a little complicated but I will work it out in a little more details later…or you can see this post or this post for how I worked it a few weeks ago before there were coupons or a rebate form out there!!