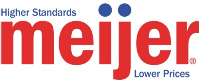 View your local Meijer Weekly Store Ad for sale dates and coupon doubling policies. This ad is for those stores in Indiana that run a sale date of Thursday – Wednesday, which is basically all the Indianapolis area store locations including the stores in Hamilton County.
New to Meijer Shopping? Check out Meijer 101 to maximize your savings! Read about Meijer mPerks.
[sdc_grocery cr_id='19' name='Meijer – Indiana']
Be sure to check out the rest of the week's grocery store deals and drug store deals!