Winner of my $100 Coupon Giveaway….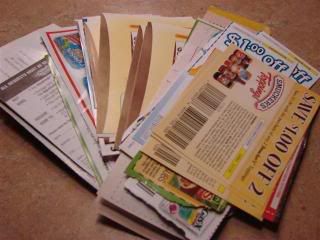 Random Integer Generator
Here are your random numbers:
12
Timestamp: 2008-09-15 11:40:26 UTC
#12 is Dee…who is generous and is going to share with her friends!
Dee 09.09.08 at 2:05 pm

I can't use them all, but I can share the rest with my Financial Group and friends.
After receiving an email from DeeDee (not the same as the winner of the giveaway!), Living well on a small budget, and reading her blog entry, I think I'm going to make this is a once a month or twice a month activity (depending on the # of coupons I have!). So keep checking back to win again or subscribe to my newsletter via email or RSS so you don't miss another giveaway! Also, check out DeeDee's site, she is going to make a coupon giveaway a weekly event!
I also have a envelope full ready to be sent to military family overseas. If you have extras or expired coupons, check out this site to get the full details of what they accept. It is a good program and could help out our brave men & women and their families with their grocery budgets!