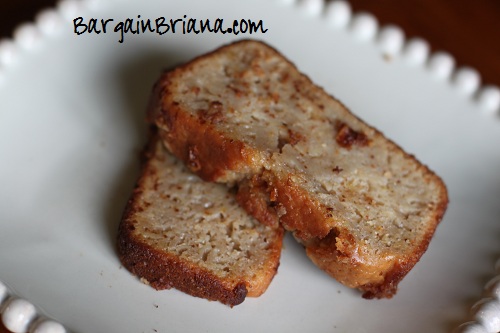 If you are looking for a super moist sweet zucchini bread that your kids will love, this recipe is just what you are looking for. My kids have never been hip on zucchini bread if there is any hint of green in it. If they even think there is something green in it, they won't eat it. If just one child mentions anything green in the recipe, all the others will just stop eating whatever it is. Even if it had chocolate chips in it, if they see the green matter, it's freak out time.
Since I wanted to get rid of a big zucchini my dad gave us from his garden, I knew I couldn't leave the skin on the zucchini. Personally, I like the green skin cooked into my bread but I have to do what I have to do to get the rest of the family on board with this bread. When I told them about this bread, I left out the zucchini part. "It's just bread", I assured them.  Of course, the oldest wanted to know the secret ingredient right off and asked me discreetly. Since she's the only one who doesn't mind trying new things, of course I told her.  After that it was our little inside joke whenever the others would tell us how the bread was delicious. I think our oldest son suspected something but he had the good sense not to ask.
I mean, this bread is really moist and really sweet so what child would even suspect the secret ingredient was something from the garden! Well, it is hard to tell because of the sugar and yogurt added into this recipe.
Print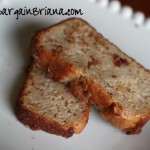 Recipes
---
3

eggs, beaten

2 cups

sugar

1/3 cup

oil

2 cups

yogurt (I used Aldi Vanilla)

3 teaspoons

cinnamon

2 cups

zucchini, grated and peeled

3 cups

flour

1 teaspoon

salt

1 teaspoon

baking soda

1/2 teaspoon

baking powder
nuts (optional)
chocolate chips (optional)
---
Instructions
Preheat oven to 375 degrees.
Combine eggs, sugar, oil, yogurt, cinnamon, zucchini, and vanilla in a large mixing bowl.
In a separate mixing bowl, combine the flour, salt, baking soda, and baking powder.
Add dry ingredient mixture to the egg mixture slowly. Fold in nuts or chocolate chips during this step.
Pour mixture into two greased loaf pans.
Bake for around 35 minutes.
---
---
Nutrition
Serving Size:

2 Loafs of Bread
Recipe Card powered by
Recipe inspiration from Stonyfield Organic.
View the Recipe Index for a complete list of recipes. For the most recent vegetarian recipes posted on the blog, go here. To view all the recipes post on the blog, go here.