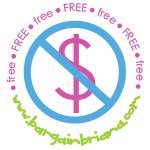 $10 off the 2009 Entertainment book & FREE SHIPPING. Shop through EBATES as you will receive $6 back in addition to the FREE SHIPPING & $10 off! (Note: Currently EBATES is having a $10 bonus just for signing up and making your first purchase with them! So if you are a new sign up, it could make the final cost of your book FREE!!!)

The Indianapolis area book is $15 shipping – $6 cash back from EBATES so my effective price will be just $9. I know I will easily save $9 with this book because rumor has it that the Indianapolis book has (4) $5/$50 grocery purchase at MEIJER. So that pretty much seals the deal for me! I bought one last year and save much more just with one Christmas shopping trip because it had Dick Sporting Goods Coupons in it. (Not sure if the 2009 version has these in it but it does have Dunham's Sporting Goods coupons.) This is also a great gift idea.
Guess what my mom bought for me for my birthday? A ZooBook, which is similar to the Entertainment book but it is specific for the Indianapolis region and raises money for the Indianapolis Zoo. I was so pumped! We've used it already for numerous things such as a $15 off Kohl's purchase (can be stacked with % off coupons too!!!) and a few fast food purchases. My husband laughs when I say, let me look and see if I have a coupon for that first!
If you buy it, remember to use it! Browse through it and make a mental note of the coupons you would probably use. Keep it in your car or shopping bag at all times. You never know when you might want to use it! If you don't think you would use all the coupons, you can also form a coupon swap with friends or internet buddies or just give away the coupons you won't use to friends or family you know will. (Whatever you do, don't put it in a drawer. You will forget you even have it and won't remember to use it!)