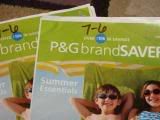 There are two coupon inserts this weekend – a Red Plum Insert and a Smart Source Insert. I suggest you purchase the largest circulating newspaper in your area to get the best coupons This should also ensure you get a Red Plum Insert since Valassis recently yanked inserts in several markets. So be advised if you live in one of those markets you may not get a Red Plum Insert. Buy the largest circulation paper just to be on the safe side.
One little hint: If I pick up newspaper at the store, I ALWAYS flip through the paper before I buy it to make sure all the inserts are there before I purchase! I suggest you do the same! Sometimes inserts get missed or people take them out. So please do this!
You can see a complete listing of the coupons scheduled to be in the inserts this weekend at Taylor Town Preview. I've listed a few of my favorites below.
Smart Source Favs:

$2/1 Huggies Training Pants
$1/1 Daisy Cottage Cheese
Buy 1 Get 1 Free Soy Joy bars (up to $1.39)
$1/1 Dentyne 3 pk
.75/1 Dentyne single pack (will make these free when they go on sale!)
Red Plum Favs:

.70/1 Kellogg's cereal
$1/2 Kellogg's Poptart
$1/1 Kelloggs Multi-Grain Krispies, Raisin Bran Extra, Mini-Wheats Little Bites, Special K Blueberry, etc
.50/1 Milky Way 10.5 oz.
.75/2 Uncle Ben's Ready Rice