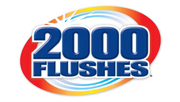 This is a Sponsored Post written by me on behalf of 2000 Flushes. All opinions are 100% mine.
Since we are on the subject of bathroom talk…..Did you know that during half time at the Super Bowl, over 90 million toilets are flushed. In anticipating of this big toilet event, 2000 Flushes sent us a party pack along with some of their tablets.
Many of you know, my family is a bleed blue team so we were a little disappointed with the outcome of the game. I know it is probably cliche at this point but at least it was to well deserving New Orlean Saints. Plus, Indiana can kind of claim his as their own since he graduated from Purdue University. It was a great game, though we would have preferred our team come out on top!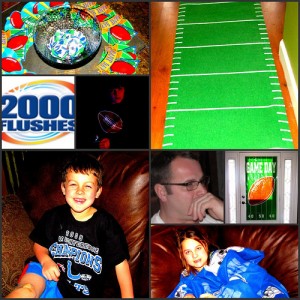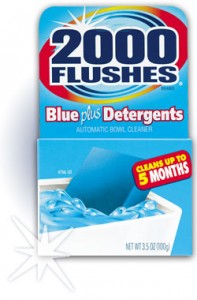 Now, onto 2000 Flushes….
The first thing I noticed was the strong odor of the tablets even when packaged. They are potent stuff. So much so, that the balloons in our package tasted a little bit funky!
2000 Flushes comes in these varieties: Bleach, Blue Plus Bleach, Blue Plus Detergents, Clip on Spring Meadow. The idea is to provide instant bowl cleaning with every flush – up to 2000 flushes. Really, who enjoys cleaning their toilet bowl? We all love a clean bowl but who really likes to get their hands dirty to make it that way!
With 2000 Flushes, it takes a little of the work off your hands. It is made with a concentrated formula. 2000 Flushes claims the Blue Plus Bleach variety kills 99.9% of bacteria and will keep your water sparkly blue for 4 months.
There is a couple of things 2000 Flushes is offering readers. There is a $1/1 printable coupon for 2000 Flushes. 2000 Flushes is also running a sweepstakes for a $10,000 Bathroom Makeover.  With that kind of cash, you can have quite a nice bathroom. Plus, each week there will be 99 winners for a FREE 2000 Flushes product coupon ($3.79 value.)
Where to buy? You can find these items at Target, Walmart, and other retailers!