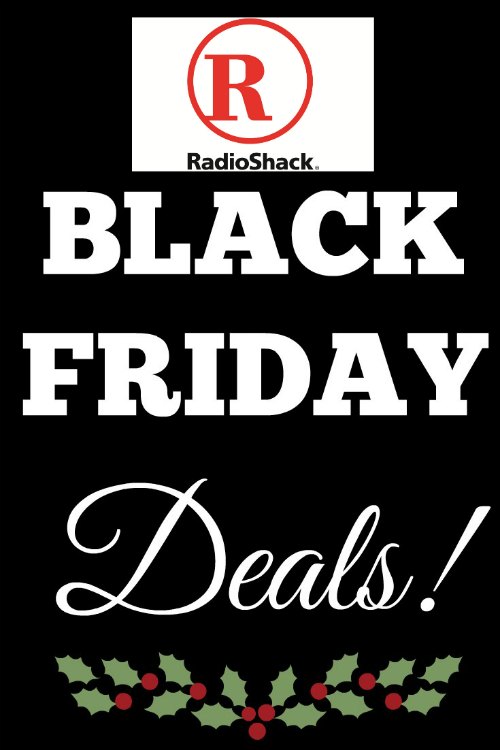 Need help sticking to your budget? Check out this post on how to create and stick to your holiday budget.
RadioShack Black Friday Deals
[favado_chain_region_lists cr_id='136928′ name='Radio Shack']
Radio Shack Black Friday Store Hours
RadioShack Black Friday will begin Wednesday, 11/25 and will be valid through Saturday, 11/28. RadioShack will be open on Thanksgiving Day, 11/26 from 8AM-1PM
RadioShack Black

Friday Deals
If you spend $50 in store and receive a FREE Hovermaxx UFO (a $14 value)!
7″ Amazon Fire Tablet Bundle (8GB Internal Memory) $54.99
– Amazon Fire comes with a 32GB Memory Card, a Free Case
Propel Micro Drone $39.99
Digital Energy Water Dancing Speakers $19.99
3D Drawing Pen $59.99
RadioShack 8.75-in Zeraxa Remote Control Drone with Camera $79.99
RadioShack Remote Control Maverick Helicopter $29.99
36-pack "AA" or "AAA" Alkaline Batteries $7.99
Linksys N600 Wi-Fi Range Extender $39.99 Bundle $259.99
– Roku bundle includes a Roku 3 Streaming Player, Universal Mount Antenna, Linksys Wi-Fi Dual-Band Router and 4-ft HDMI Cable
Linksys AC1900 WiFi Dual Band Router $99.99
Skullcandy Hesh 2 Wireless Headphones $59.99
Beats by Dre Studio Wireless Headphones $279.99
Beoplay S3 Amplifier $199.99 with $50.00 purchase
Boombotix Pro Portable Bluetooth Speaker $99.99
Snapcam Lite $79.99, get a FREE Adata MicroSDHC 16GB CIO Adapter
All RadioShack Hobby Kits $19.99
Siberia Raw Prism Headset $59.99, get a FREE Controller
Siberia V3 Headset $59.99
Vtech CS6719 2 Cordless Phones $19.99
RadioShack Pro-652 Desktop Digital Radio Scanner $279.99
Garmin Nuvi 2689 6″ GPS Receiver $174.99
Jabra Steel Bluetooth Headset $69.99
Enercell 3-Outlet Vehicle Power Adapter $4.99
LG Volt $79.99
Thanks Go Momma Coupons for providing this Radio Shack Black Friday 2015 List.