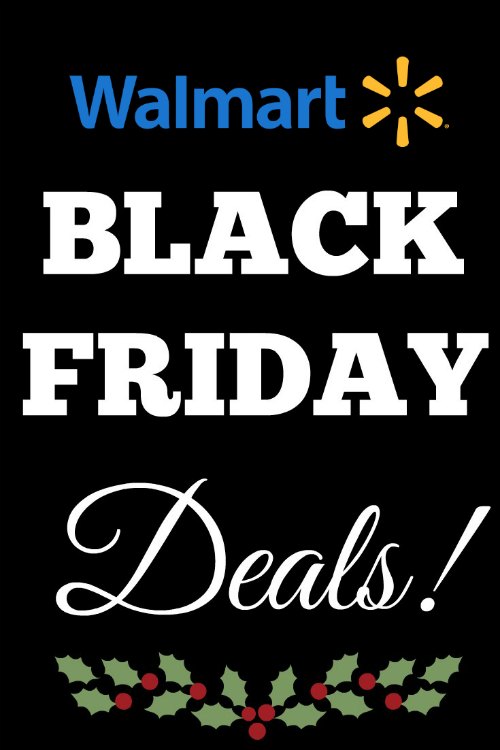 The Walmart Black Friday Ad for 2015 has been released. Right now it is only available on the Walmart App.Look for it soon on the Walmart website. There will be different start times as they are spreading out the deals.
Walmart Black Friday Ad
[favado_chain_region_lists cr_id='136969′ name='Walmart Black Friday']
The 2015 Walmart Black Friday ad is out! As of right now, the only place you can find it is on the Walmart app but I'm sure it soon be available on the official Walmart Black Friday Headquarters page. Before we look at the individual deals below, let's talk about what you can expect to find in this ad.
Walmart One Hour Guarantee Items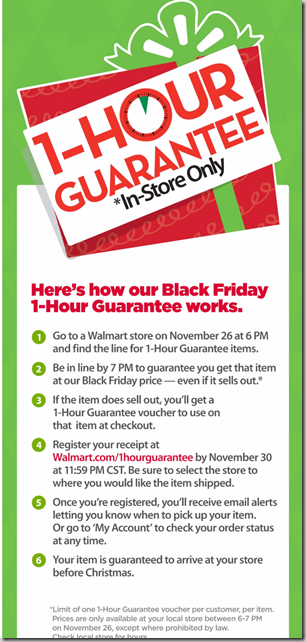 The One Hour Guarantee program is virtually identical to previous years. Each OHG item will have it's own line in the store and you can start buying the items at 6PM on Thanksgiving Day. If you get to the front of the line and they are sold out, you will pay for the item and register your receipt on Walmart.com/1HourGuarantee. Your item is then guaranteed to arrive at your store by Christmas. As a personal note, I did this last year and got my TV by the 2nd week in December. You can get in as many lines as you can before 7PM but after that hour, there is no longer a guarantee of being able to get the item.
Set Appointments for Phone Activations
You will be able to find great deals on phone including $200 off any iPhone and $250 off any Samsung Smartphone but you will have to set an appointment to activate the phone for after 9PM or some time in the following days. No phones will be activated from 6-9PM on Thanksgiving night.
Tire Installs
There are also great deals on new tires. If you decide to purchase tires, you will given a Guarantee Card guaranteeing you the right to buy up to 8 tires at the Black Friday prices but will need to schedule a time to come back the next day or following to get the tires installed.
No Time Slots
In years past there were multiple time slots with some deals being available on Thanksgiving Day, then other deals not starting until 8AM on Black Friday, then a 3rd set of deals activating at 10AM on Friday. These staggered tiers are done away with this year, every deal is available in-store at 6PM on Thursday
Online Shopping
Walmart has announced that virtually every deal will be available online at 12:01AM on Thursday. As of right now, it appears that the One Hour Guarantee items will NOT be available online but those may be the only deals you won't be able to find at Walmart.com. There may not even be a reason for most of us to even go to a Walmart on Thanksgiving, we can get all our shopping done before the turkey goes in the oven.
Wristbands
It appears that wristbands are done a little differently this year. They don't appear to be for the One Hour Guarantee items but rather "Wristbands for in-demand products will once again be handed out for popular items like the HP Laptop, 55" Hisense Smart HDTV and RCA 8" Tablet, so customers know when a product is no longer available."
Download the App
Just like last year, there will be tons of info on the Walmart app including store maps and where the lines for the One Hour Guarantee items will be at in each store.
All right, now that all that is out of the way, let's look at some deals! The list below is not every deal but just some highlights. You can find the full Walmart Ad on the Walmart App.
2015 Walmart Black Friday Ad Deals
One Hour Guarantee Items
iPad Air 2 Gold 16GB with WiFi – $399
LG 55" Class Smart 4K UHD TV – $698
XBox One 500GB Gears of War Bundle with a $30 Giftcard – $299
Beats Studio Headphones – $169
15" HP Touch Laptop – $249
TVS
50" HDTV – $269
40" HDTV – $149
Samsung 40" HDTV – $298
Samsung 32" HDTV – $198
Samsung 55" Curved HDTV – $998
Computers and Tablets
RCA 7" Voyager II Android Tablet – $28.88
Roku 32" Class SmartHDTV – $125
Samsung Galaxy Tab – $79
RCA Combo Tablet with Detachable Keyboard – $128
HP 15.6" Laptop – $199
HP 12" Laptop – $299
Apple iPad Touch – $165
iPad Air 2 16GB – $399
Apple iPad Mini 2 with WiFi – $199
Nabi Nick Jr. Kids Android Tablet – $79
Toshiba Portable 1TB Hard Drive – $49
Video Games
NBA2K16, Madden 16, or FIFA 16 for XBox One – $27
PlayStation 4 Uncharted Bundle – $299
Call of Duty for PS3 or Xbox 360
WiiU Super Smash Bros and Splatoon Deluxe Set – $249
Nintendo 3DS XL – $129
Disney Infinity 3.0 Edition Starter pack fr PlayStation 4 – $37
Skylanders Superchargers Starter pack for Xbox 360 – $37
Guitar Hero Live for PlayStation 4 – $69
Lego Dimensions Starter Pack for Xbox 360 – $79
Printers
HP 2541 Wireless Printer – $19
HP 5643 Photo Printer – $59
Canon 490 wireless Printer – $39
Other Electronics
Roku Special Edition Streaming Media Player – $25
Sony Streaming Video Player – $45
Nighthawk Router – $149
Chromecast – $20
PNY 32GB Flash Drive – $7
Canon Rebel T5 DSLR Bundle – $399
Sanyo Soundbar – $35.00
Beats Headphones – $169
Fitbit Flex Wristband – $59
LG Tone+ Wireless Bluetooth Headset – $32
Skullcandy Bluetooth Headphones – $54
RCA Twin Portable DVD Player – $49
Beats by Dre Pill Bluetooth Speaker – $149
Fitbit Charge HR – $119
Fitbit Zip – $39
Jaybird BlueBuds X Premium Wireless Earbuds – $79
Canon Powershot SX 400 IS – $99
Nikon Coolpix L31 – $46
RCA Twin Screen 7" Portable DVD Player – $49
Phones
LG Sunset LTE – $24
Samsung Galaxy Grand Prime – $49
LG Transpyre – $29
Hydro Air – $39
Samsung Galaxy S5 – $229
Toys
Lego or Duplo Large Creative Box – $30
Giant Plush Characters – $20
Select Games – $4.88
Cra-Z-Art Cotton Candy Maker – $25
50Pc Wooden Train Table – $37
Flashing Karaoke – $49
Step 2 Coffee Time Kitchen playset – $50
Supermarket Playset – $15
36" Mini Trampoline – $29
Little Tykes Dunk n Toss Bouncer – $125
Marvel 20" Figure – $10
Star Wars Lightsaber – $5
Sky Viper X-Quad Stunt RC Drone – $25
Hot Wheels Track Builder – $20
New Bright RC 9.6V Venom Buggy – $49
Matchbox Shark Ship – $25
Barbie Pop-Up Camper – $55
Monster High deadluxe High School – $99
Ride-On Power Vehicles – $99
Disney, Marvel, or Star Wars Scooters – $15
M100 Electric Motorbike – $149
Furniture
Character Toddler Room in a Box – $99
Character Fold-Out Sofa – $20
Clothing
Character pajamas – $4.75
Character Shoulder Bags – 43
Character 1pc Sleepwear – $8.50
Ladies 3pc Plush Character PJ Set – $10
Tools
Black & Decker 18V Cordless Drill – $49
Stanley 171-Pc Black Chrome Mechanic's Tool Set – $44
ShopVac 5-Gal – $19.97
Need help sticking to your budget? Check out this post on how to create and stick to your holiday budget.