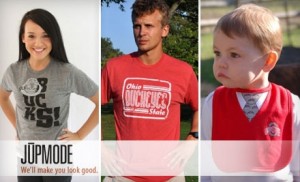 Today's Groupon side deal for Akron is a cool one for Ohio State, Michigan, Toledo, or Bowling Green fans! You can purchase a $50 certificate for Jup Mode for $25 and use it to purchase one of their stylish shirts! I think these are really cool, though, none of these are my school. However, if you are a fan or are needing a gift idea for a fan of one of these schools, these would be a great purchase!
This is an online offer so you don't have to live in Akron to take advantage of the deal.  You can purchase Groupons from any city. Just go to Visit My Cities and choose the city you wish to purchase from.
Plus, earn 6% back on your purchase when you shop Groupon through Ebates.  This is normally 3% but it is double for a limited time.
Purchase your Groupon today before the deal is over or sells out!