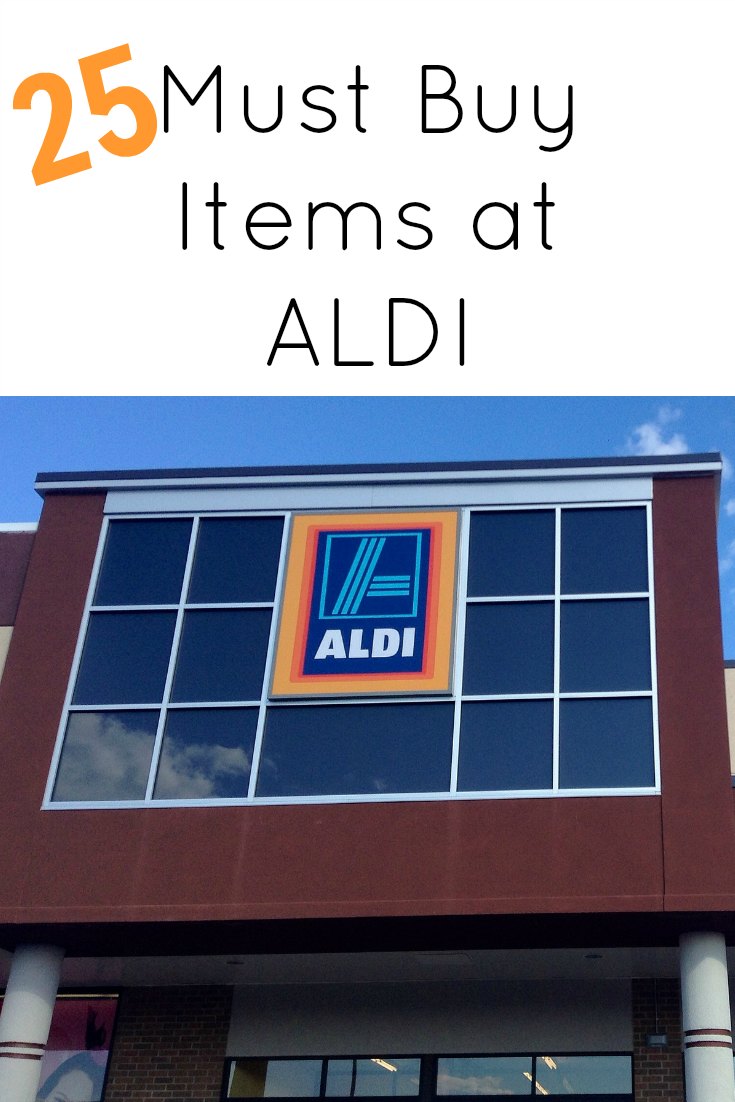 I've told you before how much I LOVE shopping at ALDI. Now I want to share some of our MUST BUY items from ALDI.  These are the things that are always on my list or radar as I know they are the best price at ALDI without ever having to clip a coupon. I buy 75% of my groceries at ALDI so there isn't much that we don't like from ALDI.
Tip: Find the weekly ALDI deals here!
My Must Buy ALDI Items
**Note: Prices and selection may vary across the regions.**
1. Milk. I find the lowest prices on milk at Aldi.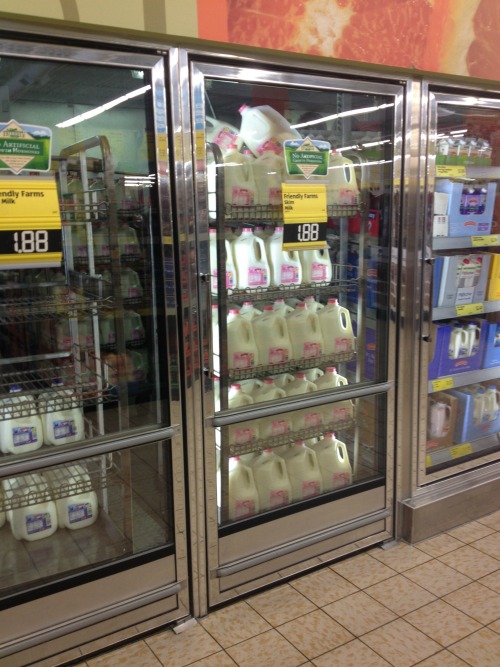 2. Eggs. ALDI always has a competitive local price on eggs.
3. Almond Milk. I love the unsweetened regular variety and it's just $2.49 for a half gallon at my ALDI.
4. Butter. Butter is another one that I always find the most competitive price without coupons at ALDI.
5. Moo Tubes. My kids take these yogurts in their lunches almost every day. They are nice to have on hand for afternoon snacks too.  Priced around $1.79.
6. Spices. $0.99 for the popular spices like cinnamon, Italian seasoning, cumin, etc. You can't beat this price. They are also a little larger than most name brand sizes. Last time I shopped, I noticed some specialty spices that were just a little more than the popular spice prices but still way cheaper than my grocery store.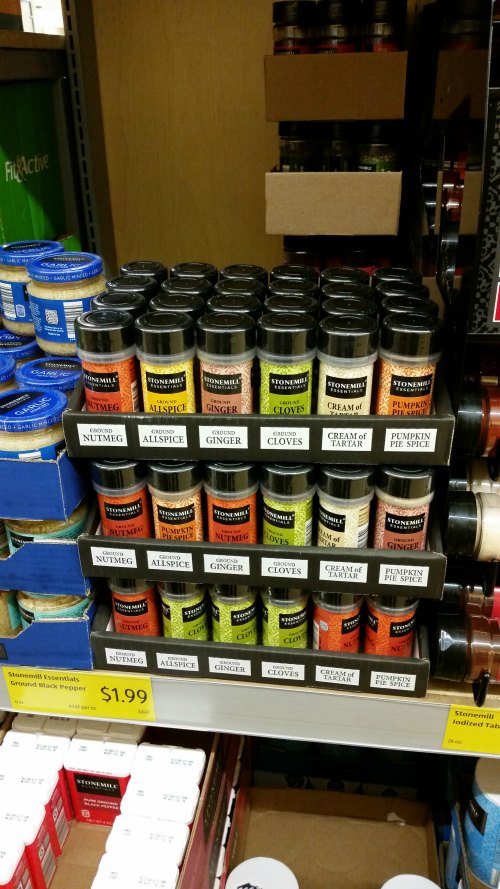 7. Baking supplies. You will find great deals on sugar, flour, baking soda, etc. at ALDI. I just purchased my almond extract for just $1.99.
8. Cereal. My kids love all the cereals I bring home from ALDI. I watch for weekly sales and can usually find a couple of different varieties each week for under $1.49.
9. Produce. It is extremely hard to beat ALDI's produce prices. One time they were out of the $1.99 bags of grapes and I had to purchase elsewhere where they weren't on sale. It was almost 4x the cost at another grocery store. OUCH! I try to buy all my fresh produce at ALDI unless they don't carry the item I need. This is a rare occasion as they usually have 99% of the fresh produce I need for the week.
10. Canned Good Items. ALDI has the best deals on canned goods. I stock up on my beans, canned tomatoes, and more. For example, I recently purchased cans of black beans for just $0.59!
11. Pasta& Sauces. My family loves the alfredo sauce. Pastas are around a $1 everyday.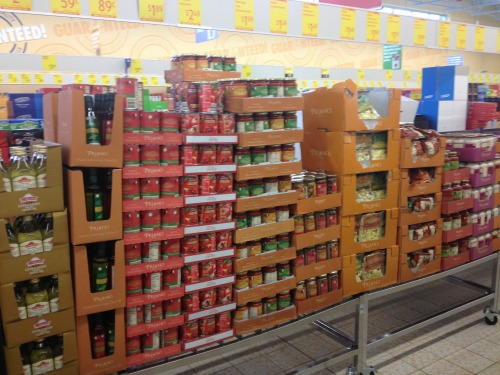 12. Boneless Roasting Turkeys. These are one of my family's favorite. I cook this Seasoned Boneless Roasted Turkey and my family gobbles it right up! It makes for a great meal or sliced thinly to use as lunch meat.
13. Whole Grain Frozen Waffles. It's cheaper to make these yourself but I like to have some on hand for easy breakfast in the morning. Just $1.29 for a package of 8.
14. Coffee. I buy a bag of vanilla coffee for just $4.99!
15. Bread. For just $0.89, I can get a basic loaf of white bread at my store. Pay a little more for specialty breads.
16. Special Buys. These are items available for a limited time only at a deep discount. These are large bulk purchases for ALDI to save you money. For example, here is a photo of the gardening supplies that I found at ALDI this spring!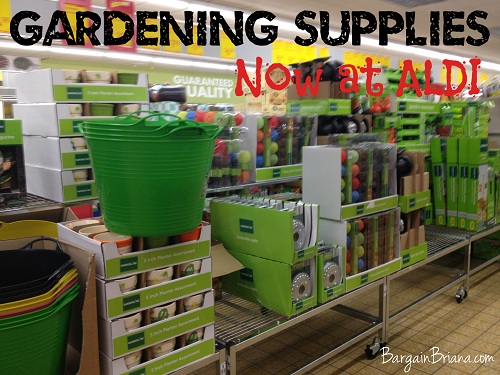 17. Wine. The wines are very reasonable priced, think $4.99 for a Landshut Riesling. And they are good! I remember during the Switch & Save Test Taste, I picked the ALDI brand over the name brand for the wine. Availability will vary across the stores depending on state laws.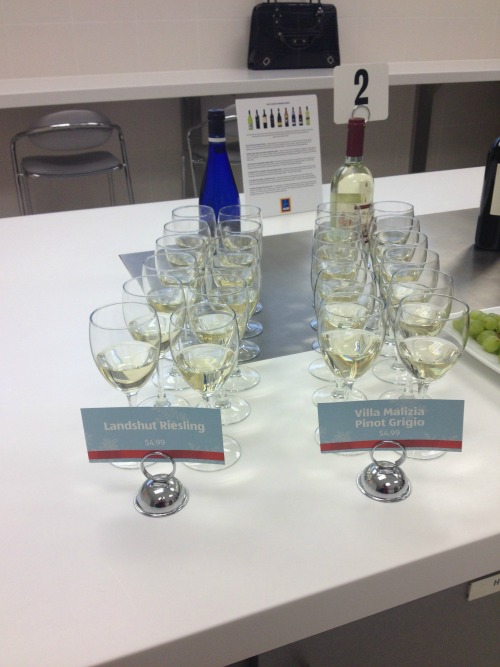 18. Cheese. I buy quite a bit of cheese from ALDI. The kids love the string cheese. I like the deal on the Parmesan and the Asiago – just $3.69 compared to around $7 for similar cheese at my grocery store.
19. Condiments. You can buy Burman's mustard for around $0.69. Oldest son says Burman's is the best. Salad dressings, ketchup, syrup, etc. They also sell Agave Nectar and Pure Maple Honey at a deep discount!
20. Gum. I buy the 3 packs of gum for just $0.99. It is great to have several packages of these on hand.
21. These rolls. They are usually in stores in the fall around Thanksgiving and Christmas and are the best L'oven rolls around!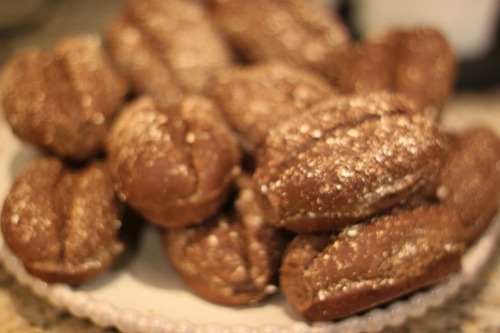 22. Vegetable Broth. I love the ALDI brand vegetable broth and I'm happy the store carries it! As a vegetarian, I use it in place of beef or chicken broth.
23.  Salmon. I find the best deal on their frozen salmon.
24. Salmon Patties. The guys eat these for dinner often! They like them and they are a fraction of the price of the Schwan's brand.
25. ALDI discount bin. Look for deals and deeply discounted seasonal items in the discount bin at your store.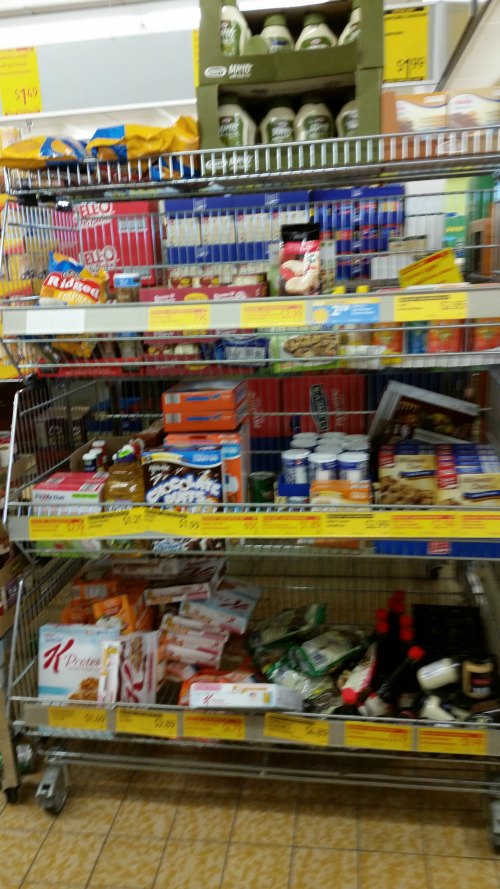 Maybe the better question is what don't I buy at ALDI? I think that list would be much shorter!
What are your favorite items to buy at ALDI?
Be sure to check out this post: 10 Reasons I Love Shopping at ALDI and view all the ALDI recipes I have posted! You can also find out how to stretch your grocery budget at ALDI with the Favado App! Read about my ALDI Switch & Save Trip here.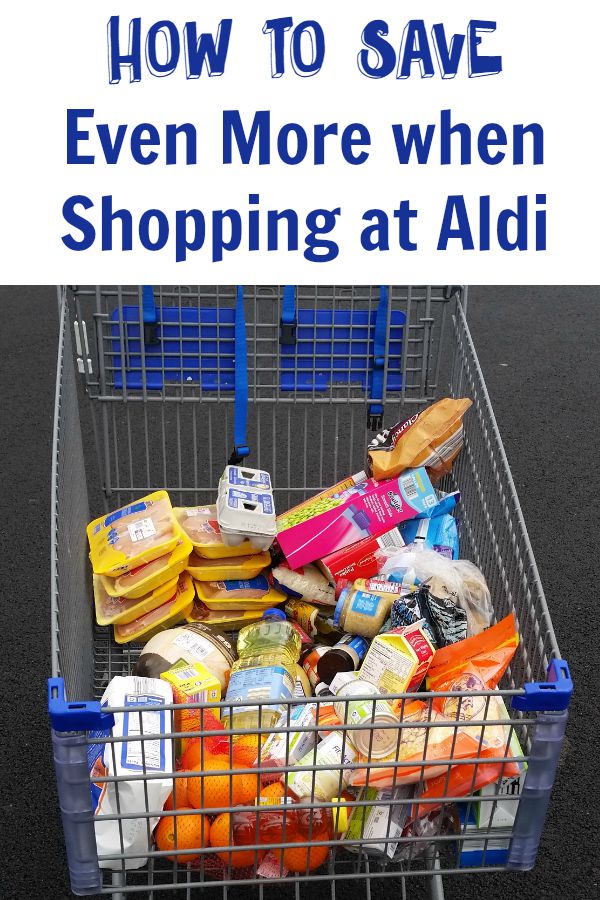 Recipes Using Ingredients Found at ALDI:
Did you enjoy this post? Find more money saving tips here.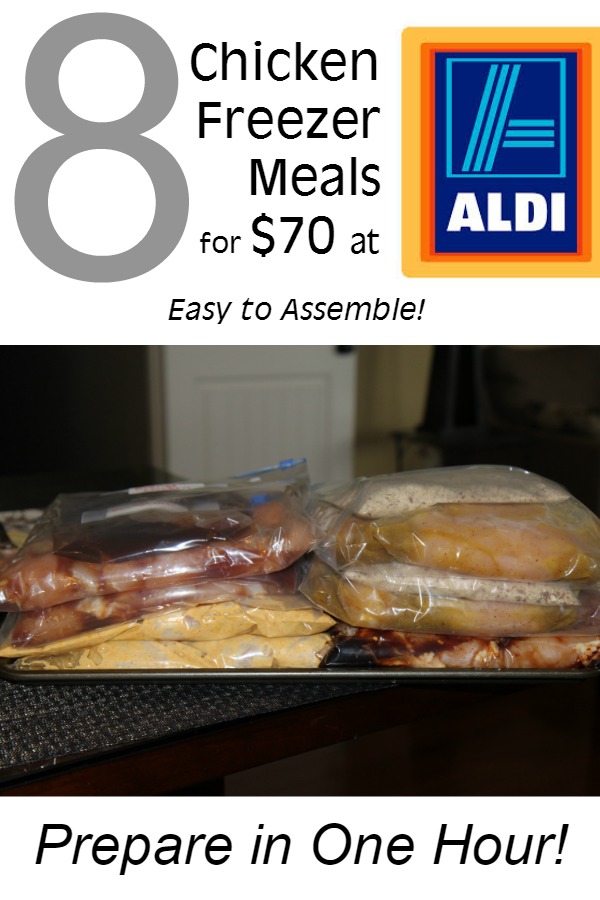 If you love ALDI, check out this easy to assemble chicken freezer meal plan with 8 delicious recipes made with ingredients found at ALDI. When you shop at ALDI, you will pay around $70 for the ingredients you need (not included in this price are commonly found household pantry items!).