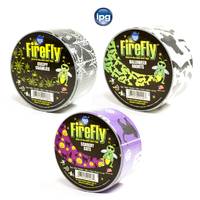 So many fun things you can do with Duct Tape – especially this Halloween! Check out this 3-Pack Glow in the Dark Duct Tape – Halloween Styles for just $4.49. Shipping adds $2.49.
America's #1 fix it for everything now glows in the dark! Ultra strong adhesion and durability. Each roll measures 10 yards, and with this deal, you will receive 3 rolls, that's 30 yards of glow in the dark magic! *Features:* * With each order receive a 3 pack of 10 yard rolls (for a total of 30 yards) * High performance strength and adhesion characteristics * Strong and durable * Glow in the dark duct tape * Tape will glow in total darkness after exposure to artificial or natural light
Want to save loads of money shopping online? Check out the latest online shopping deals.