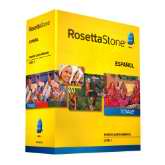 Traveling out of the country in the future? You may want to check out Rosetta Stone to learn the language of that particular countyr. Save 35% on Rosetta Stone today (2/1/2013) only.
With Rosetta Stone, recreate the natural way you learned your first language and reveal skills that you already have using Dynamic Immersion. This award-winning method has been adopted by countless organizations, schools and millions of users around the world.
Ships free with Amazon Prime or Super Saver Shipping. Find out how to get a FREE one month trial to Amazon Prime.