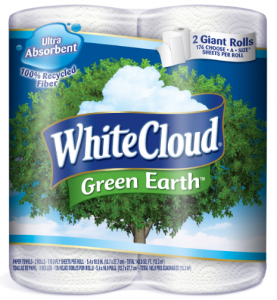 Often times being green and saving money can go hand in hand. This is especially true if you are buying products that you can reuse and don't have to buy the disposable counterpart.
Here's a list of my top 10 Favorite Green Items for Back to School:
::White Cloud Green Earth Paper Towel and Bath Tissue
Back to school or not, almost everyone uses toilet paper! You don't have to sacrifice for the earth with these recycled products.  White Cloud uses a special process, which I was able to see on a
recent trip to Canada
, that makes their recycled paper products the best possible! White Cloud products are available exclusively at Walmart.
Full disclosure, I've been paid for work with White Cloud but was not ask to include them in my Top 10 List!
::Klean Kanteen Stainless Water Bottles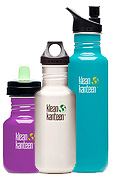 Klean Kanteen Stainless Water Bottles are the safe alternative to plastic or aluminum lined bottles. Plus, Klean Kanteen is money saving because you aren't buying expensive plastic water products anymore. I  take 2-3 of these to work with me every day!
::Seventh Generation Disinfecting Wipes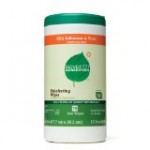 Germs are everywhere. Send a couple of canisters of the
Seventh Generation Disinfecting Wipes
to your school to get rid of the germs without all the harsh chemicals!
::Seventh Generation Facial Tissues
Okay, so
Seventh Generation Facial Tissue
these are a little stiff but they are a green product.  Teachers go through who knows how many boxes of tissues during the cold and flu season.
::Reusies Reusable Sandwich Bags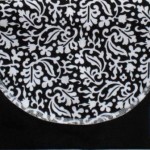 ReUsies are the alternative to the sandwich/snack bags. Just having one has the potential to eliminate hundreds of plastic bags. They are 100% cotton lined with leak-resistant nylon and secured with Velcro closures. Plus, they are just so darn cute!
::Paper Mate Biodegradable Pens and Mechanical Pencils
Paper Mate Biodegradable pens and mechanical pencils are the first step in Paper Mate's ongoing commitment to the environment. The components are made from plant-derived sugar. Once the biodegradable components are disassembled and placed in soil or home compost, they will naturally decompose in about a year. The products are also packaged in 100% PVC-free recyclable material
::Eat Cleaner
Rinsing your vegetables and meat just isn't good enough, which is why you need Eat Cleaner. Eat Cleaner is the only all-natural, lab-tested line of food vegetable, fruit wash and wipes for fresh produce, seafood, and poultry that cleans bacteria, surface contaminants, pesticides residue and wax that water can't. It can also help to extend the shelf life of your produce up to 200% longer!
::Pur Water Pitcher
We have almost eliminated the need for any types of plastic water bottles with the stainless steel water bottles and a Pur Water Pitcher.
What are some of your favorite green Back to School Products?