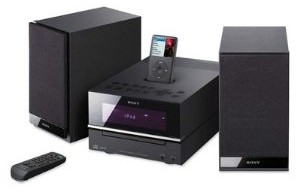 Want a sound system you're proud of?  This Sony Micro Hi-Fi Shelf System (Black)
 not only looks sweet, but reviews say it sounds great!  You'll be entertaining company with style when you have this player.  It's also currently on sale for $78.99 (save 39%).  More about this product:
Compact micro hi-fi system
Built-in iPod dock
Front-loading CD player
Audio In for use with other media players
Fluorescent display
Remote Control Included
There's a great user-review write up available on the site (scroll down the product page) which provides plenty of insight on the pro's and con's of this product.  I highly suggest skimming through that review before buying.
Ships free with Amazon Prime or Super Saver Shipping. Find out how to get a FREE one month trial to Amazon Prime.