Now Closed: Winner Announced HERE.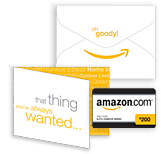 I'm lucky enough that I earned another gift certificate through MyPoints. Instead of more CVS gift cards, I decided to get a $25 Amazon certificate to coincide with my series on How to Save/Earn Money with Amazon. This is a fabulous giveaway that you can earn a entry EVERY SINGLE DAY & Additional Entries!!!
So here's the scoop on regular daily entries! Check back here every day from now until August 31st for my series on How to Save/Earn Money with Amazon. (So if you visit my site every day and leave a comment, you just earned 9 chances to win!) Leave me a comment on why you love/hate Amazon or something interesting you've learned or not learned from my How to Save/Earn Series or just a "Hi, I'm back." Ha ha! Very simple. If you want more entries…..
Ways to earn EXTRA entries:
Blog about my giveaway. (Leave a separate comment so your entry will be counted! Otherwise, I lose track of who did what.)

Twitter/Technorati/Digg/Kirsty (or any other sharing blog thing like that – there are so many out there!) about my giveaway or my blog. (Leave another comment stating you did that!)
Subscribe to my FREE Newsletter or my Feed. You don't want to miss any deals anyway! (Leave another comment stating that you did that!) If you already subscribe to either one, love ya – and go ahead and leave a comment stating you are already a Bargain Briana subscriber and you will still get another entry!
Grab my "Freebie Friday" Button. Same as all the above, just leave another comment stating that you grabbed my button. I will check to see if its on your site! If you already have one, same as above, just leave me another comment telling me you already support Freebie Friday!
Giveaway will end on Sunday, August 31st – approximately at midnight PST. Winner will be announced Monday, September 1st, via random number generator and will IMMEDIATELY be emailed their Amazon Gift Certificate CODE! (No mailing is necessary for this!!!)
Open to anyone who is interested no restrictions on country/state.
So, many, many ways to earn this gift certificate to help get you started on your Holiday Shopping!!! I've already started mine, have you?
While you are here, I offer more bargain shopping tips at places like CVS, Meijer, Marsh, occasionally Kroger & Walgreens. Browse around and see if there are any ways I can help YOU save!!! Be sure to check back on Wednesday & Fridays for special freebies, blog happenings & giveaway!