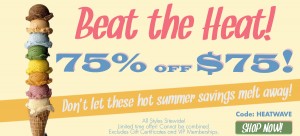 Right now, BabyLegs if offering 75% off your $75 order! This means you can get $75 worth of BabyLegs for just $18.75!
BabyLegs offers $5.99 flat rate shipping no matter the size of your order. Shop now for the best selection. These things are great for your baby to wear with a onesie in the house when it's cool from the air conditioning or when it's a little warm out but they still need some padding on their little legs. Plus, they are just plain cute! :)
Want to save loads of money shopping online? Check out the latest online shopping deals.