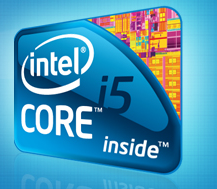 Are you in the market for a new laptop? After talking to the Intel folks, I have a new perspective on how to shop for a computer.  This is one area where the lowest price laptop, may not be the one for you.
What am I going to do with this computer?
This should be the first question you ask yourself when you are shopping for a new PC. For me, I run multiple programs at once because I'm a woman and I like to multi-task. So I will have a browser, skype, photo program, document program, etc. all open at one time.
Like many people, I expect my computer to function no matter how many windows or programs I have up. Your high school or college student is going to be doing as much or more multi-tasking on their laptops as I do! This is why it is important to look at storage, memory, and processor.
Figure out your budget and buy the best you can within that budget. You want this laptop to last a few years and the better system you purchase, the longer your student will be able to use it! Check out Intel's How to Choose the Right Processor page to help find your perfect processor.
Intel makes 80% of the world's PC processors.  The processor is the brains of the PC. If you are wasting time staring at the dreaded hour glass on your PC, then the brain of your computer is too old and probably time for an upgrade. (If only, we could do this to our real brains!)

The newest processors are the Intel Core i3, i5, and i7. The higher the number in the series, the faster processors. This doesn't mean that you necessarily need an i7 just because it is the fastest processors as it goes back to the question above, "What am I going to do with this computer?"
Hardcore gamers will want an i7.  For the rest of us the Intel Core i5 processor will do the trick. The i5 even received some ohs and ahs at my workplace, though at the time I had absolutely no clue what an i5 processor even was.
The Intel Core i5 processor, which is the processor in the Acer Aspire Timeline, is what Intel recommends for your student. For students, the laptop is their entertainment and work center all in one.  Mobility, long-lasting battery life, and performance is what is needed!
As a dedicated Mac user, I was impressed with the performance of the Acer Aspire Timeline that Intel sent us. It has an Intel Core i5 processor and the battery life is phenomenal. Our current laptops have battery life time is around 2 hours. The Acer Aspire Timeline is around 11.5 hours. Yes, 11.5 hours.
Did I say it was also really light weight? As a blogger, I often go to blogging events and conferences and it can wear a person out toting a heavy laptop around. I can never bring myself to take the mini-laptop because the performance is horrid and I need a full keyboard. With the Acer Aspire Timeline I don't have to sacrifice performance to save my arms!
If I can compare myself to a student for a moment, they are going to be toting their laptops all over the place. The need something light weight! The Acer Aspire Timeline with Intel Core i5 processor is just 5 lbs.
Do you feel smarter about processors now? Would you like to win a Acer Aspire Timeline? Of course you do! Intel has been very generous to our readers and are giving one very lucky Bargain Briana reader a Acer Aspire Timeline with Intel Core i5 Processor valued at almost $800!
---
How to Win?
Prize: Acer Aspire Timeline Laptop Computer with Intel Core i5 Processor

You can enter up to 4 times with the following methods:
1. Leave a comment with your dreaded "hour glass" moment. What do you multi-task on your computer? What does your student multi-task?
2. Become a Facebook Liker of Bargain Briana AND Intel on Facebook.
3. Tweet the following on Twitter:
Enable smart performance @intelnews Core i5 technology Laptop Giveaway @bargainbriana http://bit.ly/aIR9F3 #wingiveaways
4. Subscribe to my free newsletter via email or RSS. You must confirm your email subscription for it to be a valid entry. If you are already a subscriber, leave a comment letting me know you are already subscribed.
Please leave a comment for each additional entry.
Winner will be chosen by random. Be sure bargainbriana@gmail.com is in your safe sender list as you don't want to miss the email if you are the chosen winner.
In accordance to the FTC Guidelines and WOMMA Code of Ethics, I am disclosing that Intel Corporation has provided me with the  as well as one for the contest winner. There is no direct or implied obligation on my behalf to write about the product.
This giveaway was sponsored by Intel as part of Win Giveaways Back to School Bash. This Post was written by me and was not edited by the sponsor. Read more on my Disclosure Policy. Find more information on the terms for this giveaway on the Win Giveaways Facebook page.
You have 10 more chances to win by entering on the following blogs:
Coupon Cravings
Passion for Savings
Check back everyday throughout the day for more Giveaways! Good Luck!