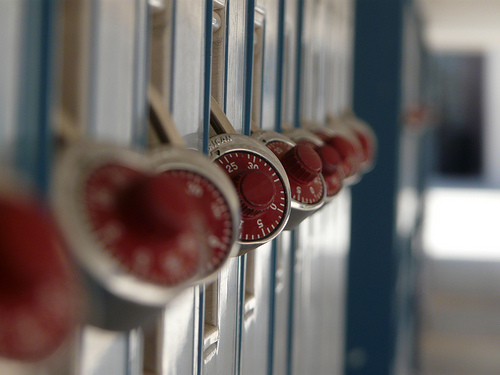 So the kids go back to school tomorrow! The big day is tomorrow. I'm ready for them to be back into a routine and have some "free time." But I'm soooo not ready as in we will be throwing backpacks together tonight as we have been so busy over the past week that we haven't had time to enjoy the back to school excitement.
Last night was the athletic card night at our middle school. It's the night, you fill out the forms and turn in your physicals for sports eligibility. We had a little time to "waste" after filling out our forms before we had a football meeting. I remember seeing an email about something about lockers possibly changing and mentioned it to my soon to be 7th grader. Of course, he was like, doh mom, they change every year. You would think I would know that since this is my second child in middle school but oops – didn't know this.
I also mentioned that we should have brought his locker stuff so he could have it ready for Friday. Another #fail I should mention. Apparently, he has lost his locker shelves. Whatever, we still decided he should try out his locker combination and find his locker so he isn't completely clueless on Friday. I'm so glad we did. We tried it several times each of us and even asked a friend and his mom to check it as well. Neither one of us  could get the locker open! Fast forward to today and the wonderful school secretary has all us fixed up! It didn't work for her either so they had to do some work on it. Just wanted to add that in case you were all thinking it was user-error.
There are so many things that can go wrong on the first day aside from locker issues. Here's a few tips to avoid such mishaps in the future:
Visit the school before the first day to locate your child's classrooms, test out lockers, etc. 

Plan ahead. This one I actually did for once. I knew I would be on two business trips the week before school started so once I received the email with the school supply list on it, I started marking those items off the list. Many of the items, I was able to pull out of our school supply drawer from the discounts I purchased last year. Planning ahead saved me the hassle of waiting until tonight to try to purchase all of our school supplies.
Label all clothing, shoes, water bottles, folders, etc. Brightstarkids.net can get you started with all your labeling needs.
Let's talk more about labels from Brightstarkids.net! They offer two types of labels – stick-on and iron-on. They are extremely durable so they will withstand the wear and tear of dishwasher. 100% waterproof and scratch resistant. They will stick to most kinds of plastics and will stay stuck for years. They are removable, though! When you are ready to remove the labels, simply peel off and no residue will be left behind.
The iron-on labels are quick and easy to pop on to all your kids clothing. They will stay stuck on the clothes even in the most powerful washing machine and clothes dryer cycle.
Brightstarkids.net has a School Labels kit that is very popular for getting organized with back to school. It includes stick-on and iron-on labels for all your child's labeling needs!
Better yet, join the conversation below and you will receive a code for $5 off your $40 or more order from Brightstarkids.net.
Photo Credit: Flake Paradigm via Flickr
Put a label on it! Kick off the school year right and prevent unnecessary mishaps. Reply below for $5 off your Bright Star Kids order. 
This is a sponsored conversation written by me on behalf of Bright Star Kids. The opinions and text are all mine.