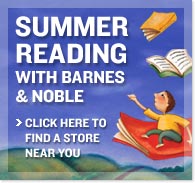 Your child can earn a FREE Book with the Barnes & Noble FREE Summer Reading Program. Here's How:
Kids Read any 8 books and record them in the Reading Journal. (available at the Summer Reading link)
Kids Choose a FREE Book from the Barnes & Noble list when they turn in their completed journal at a local Barnes & Noble.
There is also fun activities and teaching tips in the Barnes and Noble exclusive activity kids.
Another fun freebie to stretch your entertainment budget! Be sure to check out other fun free events for your family!