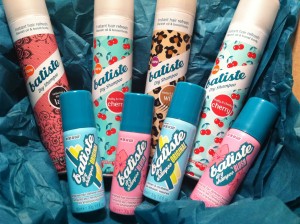 I have just found my latest must-have accessory!  It's Batiste dry shampoo.  I've heard from several of my friends that it's not healthy to wash your hair every day, but I just can't go even an entire day without having greasy-looking hair!  It really bothers me if my hair is super clean, but looks slick.  Batiste dry shampoo has officially solved my problem!
I've read about celebrities like Audrina Patridge from The Hills using this 'dry shampoo' but I wondered how it could possibly work.  It's been one of those things I thought about trying but never jump up to go buy.  Luckily, I just got the chance to try Batiste!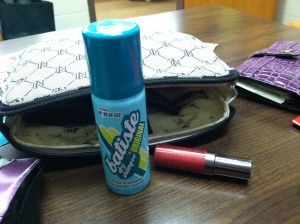 My most recent habit is to shower at night, sleep with wet hair, and roll out of bed for work.  I don't want to spare the extra zz's for an early morning shower, blow dry, and style. AKA I'm lazy.  Some mornings I don't even brush my hair (I'm laughing at myself, but it's true).  Although my hair is clean, it often looks slick or greasy due to not blow-drying or straightening out the mess.  So this morning when I rolled out of bed late, I threw together a make-up bag and tossed in a travel-size Batiste Original Dry Shampoo.
The product works great for my hair and has saved me a couple extra hair washes this week!  Batsie Dry Shampoo also smells great, which is a key factor in my hair-related decisions.  Plus my hair is SO soft after applying the product.  My favorite new scent is the Wild!  I also like Original and Lace.  Other available scents include: Cherry, Blush, Fresh, and more!  Have you tried Batiste?  The travel-size would make awesome stocking stuffers!
This giveaway was sponsored by Zing USA. Rest assured, this Post was written by me and was not edited by the sponsor. Read more on my Disclosure Policy.