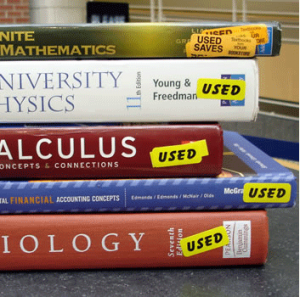 I have to congratulate Kilah for her successful completion of four years of college! I'm so proud of her! I was around 10 years old when she was born and she was so much fun (and still is!)
It's that time of year.  For those of us still taking college courses, finals are finishing up and it's time to start planning for the next course schedule.  Before you go picking out your new textbooks, it might be a good idea to do some spring cleaning and make an extra buck on the textbooks you no longer need!
I just finished my last day of college class at Purdue University and as a ritual, I go through all my books from the previous semester and figure out what can be sold back and what cannot.  This is a frustrating process which includes running around to every bookstore and mini-bookstore cart  only to find that they'll take the books back for less than half of what I paid originally and they'll give me a stack of books right back.  So then I enter the bar code of all the already rejected books on several different websites and once again they may or may not buy them back.
Well apparently there's a better and more strategic way to sell back used textbooks.   According to an article by The Textbook Guru, timing is key!  They suggest to wait until the beginning of the semester rather than the end to sell back textbooks.
They also suggest to buy textbooks wisely.  Purchase used, but resellable books.  Sometimes this simply isn't an option because the books are discontinued in certain classes or they obtain general wear and tear, but if possible keep the books in good condition and be smart about your initial purchase.  I've had a lot of success purchasing books through the Amazon Textbook Store
.
Another new trend worth trying is textbook rental.  You can try this on campusbooks.com Renting can save time, money, and a lot of headaches.
What are your textbook buying and selling strategies?