The big game has came and went. The team we were rooting for won and we were able to get down and experience a little bit of it in Indianapolis last weekend. Luckily, we didn't have a party planned on Sunday as I was in bed all day with a awful cold. 
Even though, we didn't have guests over, there are so many ways to have a successful party on a budget for game day events and other parties. First of all, keep it simple by planning ahead. Depending on the number of people you have invited, keep the number of food items down to a reasonable number.
Yes, we all saw the stadium replicas on Pinterest. However, these probably aren't realistic for most of our parties. They look really cool but who wants to eat something that looks that cool or have food go to waste because it was overboard. 
My next tip is to have a few ready to bake items on hand. Tyson Any'tizers are perfect because you can simply pull from the freezer and pop in the microwave or oven. The meat eaters in my family love the Buffalo Boneless Bites, Buffalo Popcorn Chicken, and the Fajita Seasoned QuesaDippers. These are quick and easy. There are often coupons for Tyson Any'tizers.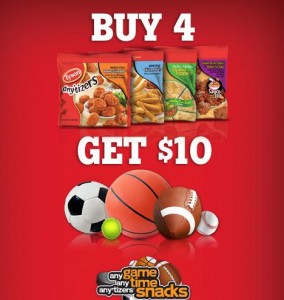 Right now there is also a mail in rebate offer regardless of the game! When you buy 4 bags of Tyson Any'tizers snacks, you can get $10 in Sporting Goods Cash. Make your purchase from January 1, 2012 until February 17, 2012. 
Finally, add some fresh fruit and veggies to the mix! Serve water and tea with fresh fruits like lemon, lime, or berries to keep your beverage costs down. 
Tell me what tips you have for hosting a successful party for friends and family for the Big Game and be entered to win a 42" LG flat Screen TV!
Tyson Any'tizers are a great snack that satisfies your kids on game day or any day! 
This is a sponsored conversation written by me on behalf of Tyson Any'Tizers.  The opinions expressed by me do not necessarily reflect the view of the Tyson Any'Tizers Brand. Official Sweepstakes Rules