This post brought to you by BMO Harris Bank N.A. Member FDIC. All opinions are 100% mine.
We have been playing the BMO Harris Bank Scavenger Hunt Sweepstakes each week and sharing tips along the way. In the past weeks we have discussed Baby Saving Tips as well as tips for creating a budget with you get a new job. This week we are moving on to purchasing a new home. We recently purchased and sold our previous home so we know a little bit about the process and I have a few tips to help save you money along the way!
First you need to decide to buying is for you. Both renting and buying have their own advantages. When you are renting you have a landlord who is in charge of maintenance, better mobility, and less property related costs. If you are buying a home, you have the benefits of building long term equity, potential tax advantages, and the freedom of owning your own home.
Last spring, after making my fourth or fifth trip to "town," we decided to get serious about looking to move into the city. Those of you who know me will laugh as the city is a small town and our commute was about a 15 minute roundtrip for the majority of our activities. With kids that are active in about everything, these 15 minute trips were really starting to eat away at our day. It was very stressful. It would never fail that we would get to town and someone would have forgotten a baseball mitt or a hat or something else that they needed for their activity. We knew for our own sanity that we needed to find something closer to our activities even if it meant giving up our huge yard and the peace of the country roads.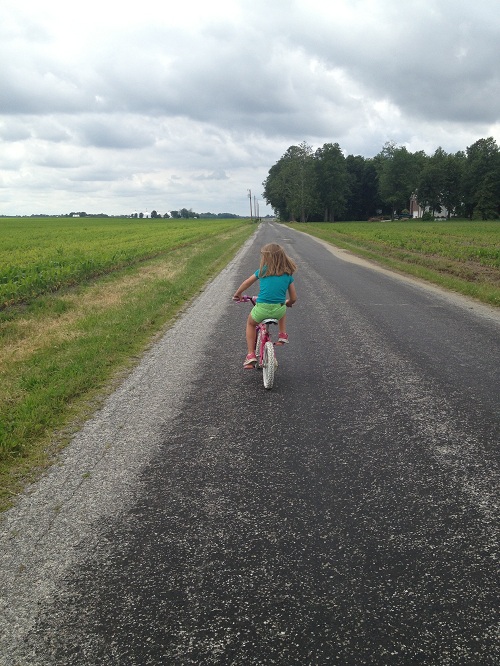 One tip I can give you is to be patient. We were the first people to look at a house in the neighborhood that we wanted to live in. We didn't act right away and this saved us thousands of dollars. In fact, we weren't sure the house was right for us the first time we looked at it. We thought the price was high and the living room too small when we could build something exactly how we wanted in a similar price range. Time passed and we realized that we didn't want to live in an apartment, which would be too small for our family of six or live with relatives, who would surely be driven insane by our crazy family while we were building a new house. We had been through that stress before and we were hoping to reduce our stress level.
Then the price on the house we had originally looked at started to drop. By the second time the price dropped, we decided to take another serious look at the house as there was no way this house could be built in 2013 for the same price. At this point, the previous owners had moved out and the house was empty. The house seemed bigger and perfect this time around. We took a huge leap of faith by making an offer on the house when our current house was not even on the market. Our bank assured us we would qualify for both loans. If you are a first-time home buyer, the criteria mortgage lenders use to determine your credit-worthiness includes your credit score, debt-to-income ratio, current income/job history, and down payment/savings.
We never did officially put our house on the market. We had awesome neighbors at our previous home and they were able to put the word out to their network so they could find some great neighbors. To be honest, I had a few sleepless nights thinking of owning two homes but it all ended up working out very smoothly. We are so happy in our new home in town. I still have stress, of course, but the stress about driving someone to town or forgetting something at home is gone as we are close to all their activities. The kids have also been able to participate in more activities since we have moved. With the money we saved by being patient, we have been able to put our own stamp on this house by adding a garage, putting in a home office, changing out the plumbing fixtures, and a few other future plans as well.
The BMO Harris Bank Scavenger Hunt Sweepstakes is on week 3 and you could enter for a chance to win $500 – $2,000. Each week during the five week time period, play the interactive game experience on Facebook that offers useful financial tips. Different key milestones of the journey of life will be highlighted through a series of true/false and multiple choice questions, text tips, and video footage. You will pick up tokens along the way that enable you to enter the sweepstakes.
Not only is it informative but it is fun and very quick! I was able to enter in just a few minutes. I also got each question right on the first try – yay me! You will have to be on Facebook to participate.
Rent or buy? Which do you prefer?