This is a sponsored post. All thoughts and opinions are my own.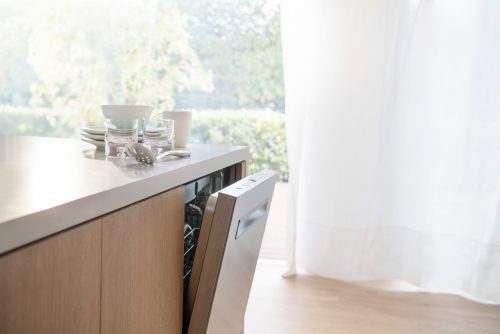 When I am picking out a new appliance, reliability is the most important feature for me. My family does quite a bit of cooking and baking so the dishes can pile up quickly. Having a reliable dishwasher that cleans efficiently is very important to us.
Recently, we need to replace the dishwasher that was installed with our house. Barely even a few years old and it needed replaced. We knew before we had to replace it that we would only replace it with a Bosch brand dishwasher as it is the only dishwasher in the past we have had a good experience with. When I saw an opportunity to work with Best Buy regarding a Bosch dishwasher post, I knew this would be easy for me to write as I rave about it all the time.
Beyond the excellent cleaning quality, my next favorite feature of the Bosch 500 series dishwasher is how quiet the dishwasher is. With the 44-dBA noise level rating I have to double and triple check the exterior Infolight® to even know it's on.
The racks all unload and load very smoothly with EasyGlide™ rack. Another cool feature is the flexible third rack, perfect for utensils, which isn't offered by many other manufacturer's. Bosch really knows how to maximize the space in a dishwasher with a large interior that can accommodate a 16 place setting.
The AutoAir™ feature automatically opens the door at the end of the drying cycle to let moisture escape and fresh air to circulate for better drying results. *Compared to Bosch Dishwashers with PureDry.
The Bosch 500 series is available at Best Buy. You can find more information here.