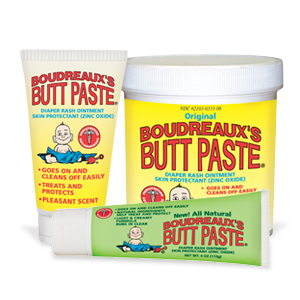 This is a Sponsored Post written by me on behalf of Boudreaux's Butt Paste. All opinions are 100% mine.
Butt Paste. I think the name is very specific as to what this product is all about.  Boudreaux's Butt Paste is used to treat and prevent diaper rash and protect chafed skin due to diaper rash. Since it can also be used to help seal out wetness, it makes it perfect to treat other ailments as well!
Boudreaux's Butt Paste goes on easily and goes on more like a cream than a paste. It can also be removed easily. With some ointments, they are so thick, you can never get it completely off or they are too thin, which makes their protection non-existent.
I've read many good things about Boudreaux's Butt Paste in the past in magazine and on other blogs! Plus, people just can't resist the matter of fact name of this product. While, my baby is now almost four, she still has a very sensitive bottom area. I will be using Boudreaux's Butt Paste on her next irritation.
Boudreaux's Butt Paste was specifically formulated by a pharmacist in the late 1970s with direction from a respected pediatrician to provide an effective diaper rash treatment. Not only can you use it for the butt area but it can provide relief for other skin irritations such as minor burns and insect bites.
Would you like to try this butt paste for yourself?  You can request a FREE sample of Boudreaux's Butt Paste.
Boudreaux's Butt Paste is also offering a year supply of Boudreaux's Butt Paste and a gift card to Babies 'R Us ($150 retail value) to one reader across 5 blogs! To enter, you will need to leave a comment on this post with your best diaper rash treament secret by April 30, 2010,
Find a complete list of contest rules as well as other sites you can enter for an additional chance to win this great prize package!