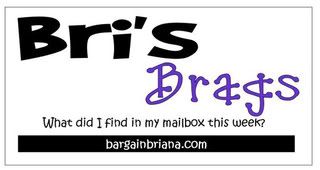 These are from the past two weeks as I forgot to publish 9/6's post! :)
Samples:
Pamper Potty Training Kit & Coupons
Similac Sample & checks (passed onto my cousin!)
Fiber One Granola Bar, Fiber One Honey Clusters Cereal Sample, $3.25 in coupons from Fiber One!!!
Coupons:
$1/1 Popper Coupon found in box!
Coupons found in Food & Family Magazine
$5 Enfamil Check
Healthy Balance Coupons
$10 in Huggies coupon from home mailer
(2) Free Cheerios Box Coupons up to $4.69!!! (from the 6 week Cheerios Challenge!!!)
Home Depot 10% off coupon
$5/$25 Toys R Us Coupon
Bath & Body 20% off entire purchase coupon & Free Black Amethyst 2 oz body lotion – no purchase necessary coupon!
Others:
Free Gift from Office Depot – Business Card Organizer…I"m thinking of using it as a loyalty card, credit/debit card organizer!
Precious Girls Club Goodies
$20 Amazon Gift Certificate from Consumer Say Panel just for joining!
What goodies did you find in your mail box this week?????