This is a Sponsored post written by me on behalf of Buffalo Wild Wings. All opinions are 100% mine.
Ask my boys where they want to eat and it's very likely they are going to shout out "BDubs." Otherwise known as Buffalo Wild Wings, it is the one place we can go and I know the entire family will be happy! Not only do they have delicious food but they also have a fun atmosphere.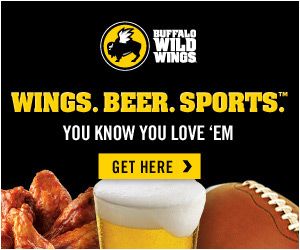 With four kids, we have such a wide array of food preferences so it's hard to find a place that everyone enjoys. When we visit Buffalo Wild Wings, I know that everyone will find something they will enjoy – even the vegetarians as they have a nice and "juicy" veggie burger on their menu.
After picking up my son and a couple of his friends from football camp a couple weeks ago, I took them out to eat before we headed home. That's when we saw a promotional sign for Bottomless Boneless Lunch, which my son says we have to go back during the day for! We were a couple hours late for that but it would have been a great deal for three almost teenage boys!
I know when we visit Buffalo Wild Wings, I don't have to worry about the kids being the loudest people in the restaurant as they have a fun atmosphere with games, table games, music, and televisions to watch all the latest sporting events. With football season upcoming, I know the boys will be making many trips to their favorite place with dad.
Buffalo Wild Wings wants to help you get ready for football season by co-hosting lunch parties at home, the office, and BDubs itself. Check out the array of promotions including Game Changer Beer, Wing Tuesday, Boneless Thursday, and Bottomless Boneless Lunch.
Follow Buffalo Wild Wings on Twitter and Like Buffalo Wild Wings on Facebook to keep up to date with all the latest news and promotions!