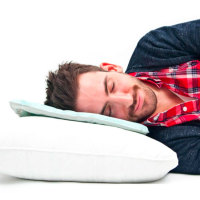 I had a few people asking about deals on cool pillows around the holidays. Here's a deal for a Chillow Plus Water-Filled Cool Comfort Device – just $13.99 + $4.99 shipping.
Product Features:
Glove-soft outer material
Fill with water to activate special foam core
Cool comfort while you sleep, read or relax
It offers the same great features, in a larger size, as the original Chillow
Relieves hot flashes, headaches, sunburns and more
Noise-less cooling alternative to air conditioner or fan
No refrigeration needed, but can be used for extra cooling power
Just add water to the fill port, remove the excess air, and place it in your pillow case with the medical-grade cloth face up
Non-toxic and latex free with a Hydro-Soothe membrane that is cooler to the touch and easy to clean
Non-electric
This product uses less water and is lighter and easier to handle than the original Chillow
Fits standard pillows
Product Dimensions are 20.5 × 0.4 × 13.4 inches
Want to save loads of money shopping online? Check out the latest online shopping deals.