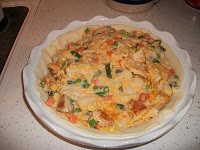 The following is a guest post from Leslie at Whisper Wife.
This is my husbands favorite comfort food recipe. It's called Cheesy Chicken Pot Pie. I make it quite often. It's simple, quick and oh so cheesy! Fall is the perfect time to pull out all those yummy comfy recipes that have been put away all summer because it's just too hot. I hope you try it at your home! Here's what you need:
Ingredients
2-9 inch pie crusts
2 cans cream of potato soup
2 c. cooked chicken, cubed
15 oz can mixed vegetables (I use frozen), drained
2 c. shredded cheddar cheese
Line ungreased 9″ deep dish pie plate with one crust. Set aside. Mix soup, chicken, vegetables, and cheese together. Spoon into pie crust. Top with remaining crust, seal and flute edges. Cut vents in top, bake at 350 degrees for an hour.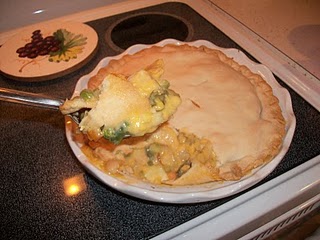 I hope you enjoy our favorite cozy weather food as much as we do!
My name is Leslie, and I live in Upstate NY with my husband and three children.  I start each day with one goal:  to make my house a wonderful place to come home to. I love to share my successes and failures with others.  That's how "Love Alone" came about.