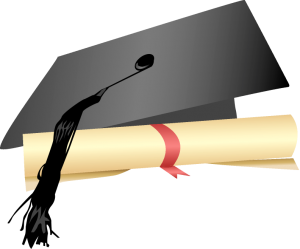 Congratulations 2012 Graduates!  This post is just for you.  Now that you've collected a bit of extra cash from your graduation parties make it last with these deals, steals, freebies, and tips!  I'll be the first to admit it can be rough being a poor college student, as I was not long ago.  I wish I would have known many things pre-college life including:  book-buying strategies, housing strategies, budgeting, couponing, and how to use the BargainBriana website!  I could have saved a lot of money and saved a lot of stress with these helpful hints.
Graduate Goupons:
Visit Groupon's Graduate Page (Indianapolis) and you'll find these great deals including:
Tassel Toppers- From $13 (Save 52%)
Beyond Graduation.com – $10 for $20 (Save 50%)
Frame Store Direct.com – From $79 (Save 61%)
ScrapWalls- From $45 (save 58%)
FREE Deals
Free Swagbucks Tool Bar: Earn Free Gift Cards, electronics and more just for searching the web!
Ink Garden: Free Grocery Bag w Code: FREEBAG + $4.99 Shipping (exp. 5/31/2012)
Electronic Deals
Loyalty Card Programs
Now that you'll be on your own, you'll want to sign up for your own FREE loyalty cards for stores you frequently visit.  These free cards will get you the best prices, special offers, and earn points or cash back toward future purchase.  These are not credit cards.  Take the time to register these cards and load them on your smart phone with any free card app- like Cardstar. Some FREE loyalty cards I recommend:
CVS Extra Care Card: Sale Prices + Earn 2% Back on Each Purchase
CVS Beauty Club Rewards: Earn $5 EB's WYB $50+
CVS Green Bag Tag: Earn $1 EB's Every (4) Trips
Marsh Fresh Idea Card: Sale Prices
Marsh Brown Bags: Earn $1.00 Off per Bag Used
Payless University Student Card
Retail Punch Cards (Buckle, Maurices, etc.)
Grocery, Drug, and Super Store Coupons:
These are just a few.  If you're looking for a store we don't cover, please visit Briana's website,
The Frugal Map
to find a blog listing in your area or the area to which you will be moving.  Find specific coupons using the
Coupon Database
.  If you don't want to use coupons, you'll find the lowest prices at Walmart and Aldi.
Banking & Online Shopping
Manilla: Organized Banking in One Location
Chase Bank: Get $200 for Opening a New Account – *I have this.  You can get a free college checking & savings account until you are 25 then be sure to switch to the other debit free card they offer. I don't recommend getting a credit card unless you are absolutely sure you won't abuse it.  The only perk of the free credit card are the rewards points you can earn in cash back.  You can score some great deals.  Just don't forget to claim your points every so often!
eBates – Earn Cash Back on Your Online Purchases
Housing
Although you may think you're saving money buy living in an apartment off-campus, I'm going to take the side of your parents and say- don't do it!  It's so much EASIER to live on-campus in a dorm and A LOT more FUN!  You'll meet tons of great people, won't have to worry about cooking, can walk to class, buy less supplies for your dorm room, and generally be more informed as far as what's going on at your school.  At least try a dorm for one year.  I think most college students would agree with me on that one.  Some schools offer FREE housing & meal plans for students that choose to become a resident assistant (R.A.) after the first school year.
School Supplies
Hot Deals
Music Deals
Again, congratulations!  You've reached a very important milestone.  Good luck in your future endeavors.
*I'm here to help!  Please leave a comment on this post or e-mail me directly at: kilah@bargainbriana.com with any questions!  If you're shopping for something specific, and I haven't mentioned it here- I might be able to to help.
While we're talking applications, we'd love for you to add BargainBriana iPhone app, BargainBriana iPad app, or Bargain Briana Android App!
Also- keep up on the deals year-round by visiting the blog, liking us on Facebook, following us on twitter (@bargainbriana), subscribing to our RSS feed or subscribing to our FREE daily newsletter (via email).
Join us on the Indiana Bargains Facebook page and be sure to bookmark this Indiana section of the site bargainbriana.com/indiana, where we will be sharing freebies, deals, events, and much more going on locally!