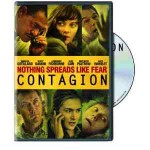 You can get [easyazon-link asin="B0069UP2PI"]Contagion (+ UltraViolet Digital Copy)[/easyazon-link] on DVD for just $14.99 shipped from Amazon. This is one of the movies on my watch list. Have you watch this one yet?
Steven Soderbergh alternates between films about individuals, like Erin Brockovich, and multi-character thrillers, like Contagion, which takes a Traffic-style approach to a deadly pandemic. It also represents a reunion for three actors from The Talented Mr. Ripley as Gwyneth Paltrow and Matt Damon play a suburban Minneapolis couple, while Jude Law (with unflattering dentures) plays a muckraking Bay Area blogger. When Beth (Paltrow) returns from a business trip to Hong Kong, she brings a virus with her that spreads across the world, attracting the attention of people at the Centers for Disease Control (Laurence Fishburne, Kate Winslet, and Jennifer Ehle) and the World Health Organization (Marion Cotillard). Just as virologists frantically try to track down the origins of the pathogen and to find a cure, it starts to mutate, foiling every move they make. Soderbergh, who serves as his own cinematographer, captures every development: false rumors, looting in the streets, and mass graves. Whenever he focuses on emptied-out offices and supermarkets, chillers like I Am Legend spring to mind, even if Contagion avoids most sci-fi/horror tropes, except for a stomach-churning autopsy sequence–one of his few real missteps. Mostly, he concentrates on cool heads dealing with life-and-death issues the best they can. The end result registers as more realistic than Outbreak, if less pulse pounding than Traffic, though the final sequence proves Soderbergh can find the grace notes even amidst an unbearable tragedy. –Kathleen C. Fennessy
Ships free with Amazon Prime or Super Saver Shipping. Find out how to get a FREE one month trial to Amazon Prime.