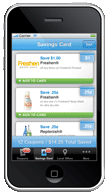 Have you checked out the new Coupons.com iPod/iPhone Application?
Coupons.com now has an iPod Application which will allow you to use ecoupons at select locations. Here's what you can do right now:
Ability to select coupons you wish to print. Print wireless from your networked device or send to your email to receive a link to print the coupons
Ability to add eCoupons to your shopper card. Right now the ecoupons look like it is limited to Safeway, Vons, Genuardi's, Carrs, Randalls, Dominick's, Pavilions, and Tom Thumb grocery stores.
According to the literature I received, with coupons.com eCoupons, you will not have the ability to use both eCoupons and paper coupons. Though, it has never been allowed, it has been hard to prevent. Coupons.com is stating they have the technology to prevent this from happening.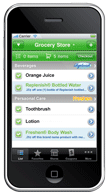 Coupons.com is also integrated within Grocery IQ. Grocery IQ application integrates grocery coupons from Coupons.com within their app as well as these handy features:
Barcode Scanning: Scan an add and instantly find matching coupons.
Grocery List Organization: Arrange by categories or aisle layout where you shop.
Synched List Sharing: Share your shopping list with multiple users.
Check out this past post for more money saving iPod/iPhone apps!
Have you used either app yet? What are your thoughts?