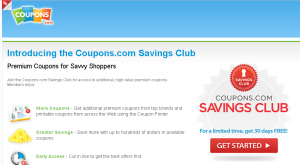 Will you pay for coupons?
Imagine my surprise today when I went to Coupons.com to look for a coupon and received a "Special" offer to join the Coupons.com Saving Club for $3/month or the special savings of $30/year.
Huh?
The offer promises:
Higher value coupons
Early Access to Coupons
More Coupons from top brands using the Coupon Finder
Sometimes it is worth it to pay money to save…only time will tell if the Coupons.com Savings Club is worth it.
Anyone else received this? Will you be signing up?